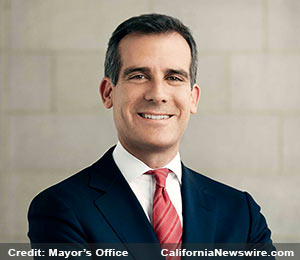 LOS ANGELES, Calif. /California Newswire/ — Los Angeles Mayor Eric Garcetti to administer community oath of office to Senator Tony Mendoza at the Norwalk City Hall Civic Lawn on Saturday, December 13, 2014 at 10:00 a.m. The ceremony will feature community leaders and local dignitaries. See program below.
Senator Mendoza was elected as Senator for the newly-drawn 32nd Senate District on November 4, 2014.
"I am honored to be administering the oath of office to my friend Tony Mendoza at his community oath of office this Saturday in Norwalk. I look forward to working with him to create jobs and strengthen neighborhoods across Southern California," said Los Angeles Mayor Eric Garcetti.
"I am honored to have Mayor Garcetti administer my oath of office. It is truly humbling to be elected to represent the 32nd Senate District," said Senator Tony Mendoza. "I am committed to working hard for my constituents and the State of California. There is a lot of work to do, but I am ready for the challenge."
What: Community Oath of Office Ceremony for Senator Tony Mendoza, 32nd Senate District
When: Saturday, December 13, 2014 at 10:00 a.m.
Where: Norwalk City Hall Civic Lawn, 12700 Norwalk Blvd.
Tony Mendoza, a Los Angeles native and former school teacher was elected on November 4, 2014 to represent the 1.1 million residents of the newly-drawn 32nd Senate District. Senator Mendoza previously served in the State Assembly from 2006 to 2012 representing the 56th District.
Senator Mendoza grew up in South Central Los Angeles. He is the first in his family of nine children to graduate from college. He earned his Bachelor's Degree from California State University, Long Beach and his teaching credential at California State University, Los Angeles. He also obtained his Executive Masters in Leadership from the University of Southern California. For more than 10 years, Mendoza taught elementary school in East Los Angeles.
In 1997, he was elected to the Artesia City Council, becoming the first Latino councilmember. A year later, he became the youngest to serve as Artesia's mayor at the age of 26. Mendoza served three successful terms on the Artesia City Council before running for the State Assembly in 2006.
While serving in the State Assembly, he authored significant legislation signed into law: Under AB 97, California became the first state in the nation to ban the use of Trans Fats in food preparation in all restaurants; AB 1291 allows judges to sentence the parents of children with first-time gang offenses to anti-gang parenting education classes; and AB 22 prohibits the use of consumer credit reports in the hiring process.
Senator Mendoza lives in Artesia with his wife, Leticia, their three daughters and son.
The 32nd Senate District includes the cities and communities of Artesia, Bellflower, Buena Park, Cerritos, Commerce, Downey, Hacienda Heights, Hawaiian Gardens, La Habra Heights, La Mirada, Lakewood, Los Nietos, Montebello, Norwalk, Pico Rivera, Rose Hills, Santa Fe Springs, South Whittier and Whittier.
Senator Tony Mendoza, 43, a Los Angeles native and former elementary school teacher in East Los Angeles, represents the 32nd Senate District in Los Angeles County.