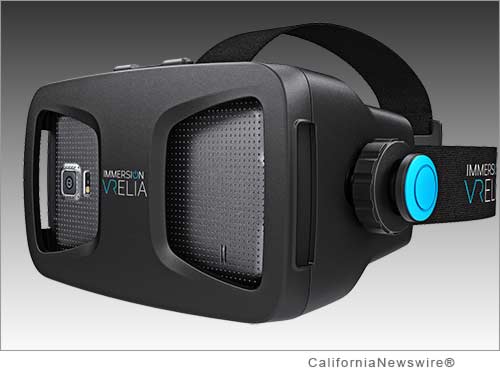 MOUNTAIN VIEW, Calif. /California Newswire/ — ImmersiON-VRelia, the premier innovator in the HMD Virtual Reality sector, will exhibit at NASA's 75th Anniversary Open House. The event, set for October 18, 2014 at the NASA Ames Research Center in Mountain View, Calif., is expected to draw approximately 120,000 attendees.
ImmersiON-VRelia will display NASA datasets on the ImmersiON-VRelia GO pre-production unit, which offers a full Virtual Reality experience powered by a smartphone. Attendees will enjoy the opportunity to explore outer space in a fully immersive, Virtual Reality 3D environment.
The GO is an accessory that turns any mobile phone into a Head Mounted Display (HMD) delivering previously unseen features such as a 120-degree field of view, adjustable optics and the ability to accommodate most smartphones.
"Until now, the general public's ability to experience outer space in a fully immersive environment has been limited," said Ethan Daniel Schur, CMO of Immersion-VRelia. "The GO HMD provides a platform for the average person to better understand the next frontier, as it actually exists, from the comfort of their home."
Upon the GO's release in fall 2014, the NASA datasets displayed at the October 18 event will be available to all Immersion users, in addition to copious other on-demand content via "The AlterSpace." The AlterSpace, designed by ImmersiON-VRelia's founder, Manuel Gutierrez-Novelo, operates as a content platform for all ImmersiON-VRelia head mounted displays. It is cloud-based and allows developers at all levels to design and market content such as virtual worlds, videos, games, applications, environments, mixed reality and immersive experiences, and it may be utilized in practically any industry.
"We are honored to exhibit as part of NASA's open house celebration. It is a valuable opportunity to showcase how our Virtual Reality technology platform, can dramatically enhance the educational experience demonstrating amazing NASA datasets, all inside the AlterSpace and using practically any cellphone," said Manuel R. Gutierrez Novelo, CEO & President of ImmersiON-VRelia.
The October 18, 2014 event will be held at the NASA Ames Research Center located at Moffett Field from 9 a.m. to 5 p.m. ImmersiON-VRelia's exhibit will be located at Building 17 at NASA's Research Park for those interested in the immersive experience.
About ImmersiON-VRelia:
ImmersiON-VRelia is focused exclusively on the creation of wide field-of-view 3D Stereoscopic Head Mounted Displays and Heads Up Displays for virtual reality and Augmented Reality for multiple industries.
For further information about ImmersiON-VRelia, please visit http://www.ImmersiONhmd.com/ .
Copyright © 2014 CaliforniaNewswire® and Neotrope®. California Newswire is a publication of the Neotrope News Network and a U.S. reg. TM of Neotrope.