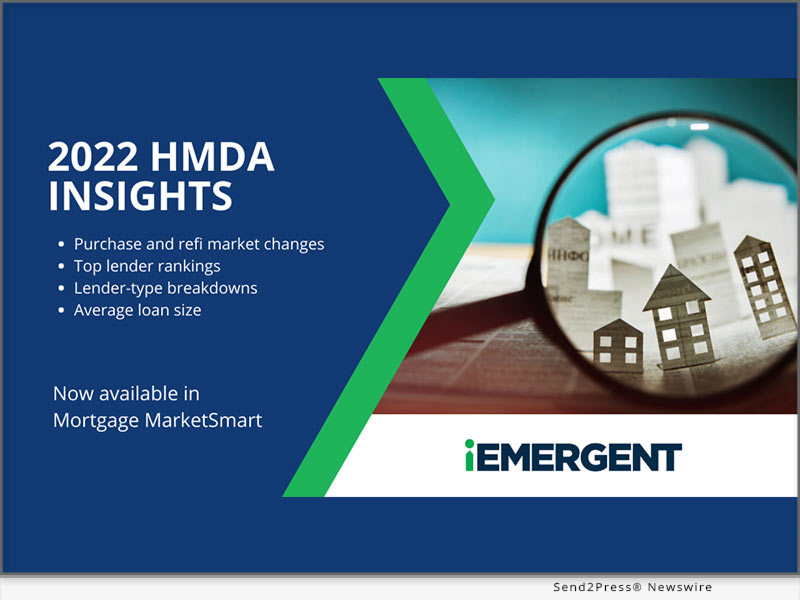 DES MOINES, Iowa, Apr 06, 2023 (SEND2PRESS NEWSWIRE) — iEmergent, a forecasting and advisory services firm for the financial services, mortgage and real estate industries, today announced the immediate availability of 2022 Home Mortgage Disclosure Act (HMDA) data in Mortgage MarketSmart. To celebrate providing lenders with early access to HMDA reporting, iEmergent CEO Laird Nossuli shared summary observations drawn from the loan-level origination data.
Top takeaways from 2022 HMDA data:
1. The last 12 months saw the U.S. mortgage market sliced in half.
While it comes as no surprise that lenders originated far fewer loans in 2022 than in 2021, HMDA data illuminates just how steep the dropoff was. Purchase units fell 19% and refinance (refi) units fell 70% year over year. Altogether, the market saw a combined 50.6% drop in purchase and refi units.
2. IMBs continue to carry a heavy load.
In 2022, independent mortgage banks (IMBs) represented just 20% of all U.S. lending institutions, yet they accounted for 58% of purchase and refi units and 56% of purchase and refi dollars originated. By comparison, credit unions were 33% of all lending institutions but represented just 9% of purchase and refi units and 7% of purchase and refi dollars. Banks were 47% of all lending institutions but represented 34% of purchase and refi units and 38% of purchase and refi dollars.
3. Credit unions are still playing catch-up in the pivot to purchase.
Purchase originations dominated in 2022, accounting for 62% of purchase and refi units and 68% of purchase and refi dollar volume industry-wide. But while banks and IMBs have crossed the threshold from mostly-refi to mostly-purchase, refi transactions still accounted for a majority (55%) of loan units originated by credit unions.
4. Select lenders are holding their own in a challenging market.
In 2022's contracting mortgage market, some lenders managed to turn lemons into lemonade. Seven of the year's top overall lenders by unit volume were new to the top 20, as were eight of the year's top overall lenders by dollar volume. Slicing the data by loan purpose shakes up the top 20 considerably, with IMBs taking 14 of the top 20 spots for purchase originations, IMBs and banks splitting the top 20 almost evenly for refi originations, and banks and credit unions dominating the top 20 for home improvement loans.
5. Buyers are borrowing more than ever.
The average size of a purchase loan increased 7.7% year over year from $337,813 in 2021 to $363,978 in 2022, outpacing overall inflation (*SEE NOTE 1) and exacerbating challenges to housing accessibility and affordability.
"In the current mortgage market, lenders face adversity and opportunity in almost equal measure – a story that is borne out in the latest HMDA data," said Nossuli. "iEmergent's Mortgage MarketSmart brings this story to life and puts it into actionable context with rich maps and forecasts that quantify a lender's market gaps all the way down to the neighborhood level."
HMDA data shows lenders how they stack up against peers
The integration of 2022 HMDA data into Mortgage MarketSmart, iEmergent's industry-first market visualization platform, makes it easy for lenders to compare their performance against competitors' across numerous categories including:
* Purchase origination units and dollars
* Refi origination units and dollars
* Borrower race
* Borrower ethnicity
* Loan type (conventional, jumbo, government)
* Borrower income (low, moderate, middle, upper)
By blending current HMDA data with historical market analysis and highly reliable forecasting, Mortgage MarketSmart gives lenders everything they need to quantify and act on market growth opportunities, including diverse lending and recruiting strategies that support financial institutions' fair lending and Community Reinvestment Act (CRA) obligations. In fact, a comparison of iEmergent's U.S. Mortgage Origination Forecast against HMDA actuals shows that iEmergent predicted overall 2022 purchase originations with an accuracy over 99%.
To subscribe to Mortgage MarketSmart and gain access to 2022 HMDA data, request a demo.
About iEmergent
Founded in 2000, iEmergent provides mortgage lending forecasts and analytics to the lending, housing and real estate industries. The company offers an extensive variety of forecast and market intelligence products, including Mortgage MarketSmart, a visualization tool that helps lenders quantify how mortgage markets will change.
For more information, visit https://www.iemergent.com.
CITATION:
*NOTE 1: https://www.bls.gov/opub/ted/2023/consumer-price-index-2022-in-review.htm#:~:text=Consumer%20prices%20for%20all%20items,December%202021%20to%20December%202022
News Source: IEmergent
Related link: https://www.iemergent.com
This press release was issued on behalf of the news source, who is solely responsible for its accuracy, by Send2Press Newswire. To view the original story, visit: https://www.send2press.com/wire/iemergent-shares-top-takeaways-from-2022-hmda-data/