LOS ANGELES, Calif. /California Newsire/ — Pyramid Press proudly announced today its latest book, "Coach Miller's Guide and Workbook To Life And Success" (ISBN: 978-0996893503) is available now at all bookstores and on Amazon. The book has an inspired and moving introduction by Virginia Tech Coach Buzz Williams and an amazing foreword by noted religious and political leader Rev. Misi Tagaloa, Ph.D., Head Pastor Second Samoan Church of Long Beach.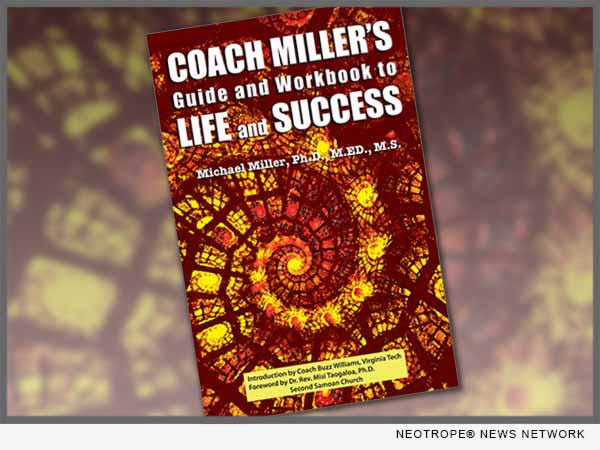 "Coach Miller s Guide and Workbook to Life and Success" is filled with wisdom and philosophy much needed for a successful life. What follows is gathered from years of practical study and achievement in coaching and teaching and can be applied to coaching, business, life and relationships of many types and kinds.
This is a workbook and is meant to be used as an interactive exercise in self-improvement as well as an important and valuable learning tool. It is important to follow the instructions for use to maximize the benefits and results.
Reviews Are In:
"The most amazing self-help book I have ever read. A must have for every youth and religious leader. Perfect for clergy and any administrator." — Rev. Misi Tagaloa, Ph.D., Lead Pastor Second Samoan Church of Long Beach.
"Coach Mike Miller knows a lot about life and a lot about basketball. I have known him for many years and know that he is devoted to helping the people that he coaches and works with to improve their situation. Coach Miller s Guide and Workbook to Life and Success is a compilation of the many universal truths and life lessons that Coach Miller has learned in over 30 years of coaching. The life lessons in this book may just be the life lesson your player, child, employee or student needs to change the way they think. These life lessons are short, simple, easy to understand and can have tremendous impact if used at the perfect time and in the right situation. This book is full of lessons that many of us need. As do our players and our children need. If you read this book and only one or two of these lessons impact you or impact those that you lead then it will be a book you will never forget." — Buzz Williams, Head Basketball Coach Virginia Tech.
Now any parent, coach, student, athlete, teacher or mentor can use this guide and workbook to increase their wisdom and ability to teach and motivate others. This book is designed for the seasoned coach or a new parent, the Chief Executive Officer or the Chief of Police. Anyone who wants to lead more effectively and be more effective as a parent, coach, teacher or leader will enjoy the lessons and insight learned over a 35 year coaching career of unparalleled success.
From the youngest varsity head coach in the state of California at age 21 to the youngest head college coach in the country at age 26, coach Miller has modeled consistency and greatness throughout his remarkable coaching career.
In his four years as a high school head coach, Coach Mike Miller attained the fifth highest winning percentage in California high school history. Coach Miller is the first coach in California basketball history to win a State Championship at both the high school (1990-91 Ribet Academy) and college levels (1996-97 & 2002-03 LACC).
From 1992 to 2008 coach Michael "Mike" Miller led Los Angeles City College's (LACC) basketball program into a national prominence for a record breaking 16 years as men's head coach and director of athletics. Coach Miller's LACC teams have won over 80% of their games during his tenure, including four straight 30+ WIN SEASONS (1999-2000 to 2002-03). His teams were models of consistency, as demonstrated by setting a new national record of fourteen straight conference championships. This amazing streak started in 1993-94 and continued until 2006-07, breaking UCLA's old record of 13 (nine of which were won under John Wooden).
Additionally this amazing book is dedicated to coach John Wooden, who impacted coach Miller's career in many important ways serving as a mentor and teacher. Coach Miller stated one of the greatest compliments he ever received was when an opposing college coach commented after a game: "Coach Miller, You guys at Los Angeles City College run the UCLA high post better than UCLA ever did," said Gary Williams, head coach at Long Beach City College.
From 1999-2000 to 2006-07 the LACC teams compiled an overall record of 241-38 over eight seasons with a winning percentage of .864, exceeding all NCAA Division I Programs during the same time period. Coach Miller is most proud of producing almost 100 Division I players; thought to rank first in the nation during this same time period.
Currently Coach Michael "Mike" Miller is entering his third year as California Basketball Association (CBA) President and Commissioner, after having coached the Los Angeles Skyline of the CBA to an undefeated season in 2016-17.
Before taking the reins of the CBA Coach Miller spent a year with the Los Angeles Lakers observing Phil Jackson during his last season in Los Angeles. This valuable experience ingrained and reinforced in coach Miller the importance of knowledge and intelligence for coaching success and inspired him to write this book. This book is dedicated to Former Lakers coach Phil Jackson who is considered by coach Miller to be the greatest professional basketball coach of all time.
Coach Miller has been honored as "Coach of the Year" eighteen times in his nineteen full seasons as a head coach at both the high school and college levels. He has produced almost 100 Division One players while coaching eight different teams to 30 or more wins and joining the 500 win club by the young age of 44.
Currently, Coach Michael "Mike" Miller hosts a popular TV show called "Time Out with Coach Miller" which features high school, Junior College and D-1 College coaches and players. The show can be seen live on http://www.dromebox.com/, usually Saturdays at 4 p.m. PT.
Learn more about Pyramid Press: http://www.pyramidpress.net/.
LINK TO BOOK ON AMAZON: http://a.co/31cpxDS