Clinical Development of its Lead Anti-Cancer Agent, Rexin-G(TM) will be presented at upcoming Upcoming Bioventure, Nanotechnology & Nanomedicine Conferences
SAN MARINO, Calif. — Epeius Biotechnologies Corporation today announced that Dr. Frederick L. Hall, President and CEO of Epeius Biotechnologies, has accepted an invitation to speak during the 9th annual C21 BioVentures Conference. On May 23 at 11:15 am, Dr. Hall will present the scientific principles, clinical validation, and global development status of the company's innovative tumor-targeting technology embodied in its lead product, Rexin-G, the first targeted genetic medicine developed to treat metastatic cancer.
Dr. Hall has also accepted an invitation to provide a practical overview of the company's proprietary targeting technology and the application of this highly advanced biotechnology in the development of new products for cancer therapy at the upcoming 2nd International Congress of Nanobiotechnology & Nanomedicine, NanoBio2007.
The C21 BioVentures Conference, which will be held in Monterey Bay, Calif. May 22-24, 2007, showcases cutting-edge private biotechnology and pharmaceutical companies that are developing superior technologies and products in healthcare and healthcare related areas, and offers them a forum to reach top venture capitalists and key decision makers from leading pharmaceutical and biotechnology companies worldwide. The pronounced visibility that C21 offers will provide an opportunity for Epeius to discuss global partnering initiatives and the company's plans to expedite the international development of Rexin-G.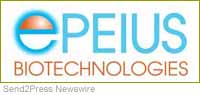 The NanoBio2007 Conference will be held in San Francisco, Calif. June 18- 21, 2007 and will highlight innovative scientific R & D in nanotechnology, as well as business and investment opportunities in the emerging Nanomedicine industry. Epeius, with its best-of-breed targeting technology, and its lead product incontrovertibly validated in the clinic, is well positioned to leverage the positive attributes of both genetic medicine and applied nanotechnology while also offering a novel, safe, and effective medical technology platform with which to engineer a wide variety of anti-cancer agents, targeted cancer vaccines, and cancer diagnostic/imaging products.
The powerful anti-cancer agent Rexin-G, the first tumor targeted genetic medicine developed by Epeius Biotechnologies, has received Orphan Drug Status from the FDA based on unprecedented demonstrations of single-agent efficacy in treating pancreatic cancer. Subsequently, the company has gained federal support to continue their landmark clinical trials in the US using intravenous infusions of Rexin-G for treating this intractable metastatic cancer.
Further, Rexin-G has gained Expanded Access status in the Philippines for treating all solid tumors that are resistant to chemotherapy – other focus areas include metastatic breast cancer, bone and soft tissue sacoma, lung cancer, colon cancer, skin cancer, and malignant melanoma.
About Epeius Biotechnologies
Epeius Biotechnologies Corporation is a privately held biopharmaceutical company dedicated to the advancement of genetic medicine with the development and commercialization of its proprietary targeted delivery systems. Credited with innovations ranging from oncogene discovery, to designer therapeutic genes, to pathotropic (disease-seeking) targeting, to high-performance vector engineering, to advanced biopharmaceutical manufacturing and bioprocess development, Epeius Biotechnologies is well positioned to "launch" its enabling platform technologies for the benefit of cancer patients worldwide.
Rapid advances in clinical drug development provide Epeius with a unique opportunity for early revenues from the exportation and sale of its lead product to the Philippines and reciprocating Southeast Asian countries-thus demonstrating the high growth potential of a small biotechnology company while maintaining the lowered risk profile of a biopharmaceutical company with a high-value, late-stage product.
To learn more about Rexin-G and Epeius' pipeline of proprietary compounds currently available for partnership or clinical trials, please visit us at http://epeiusbiotech.com.
[tags]Epeius Biotechnologies, NanoBio2007, C21 BioVentures Conference, designer therapeutic genes, treat metastatic cancer, RexinG orphan drug[/tags]