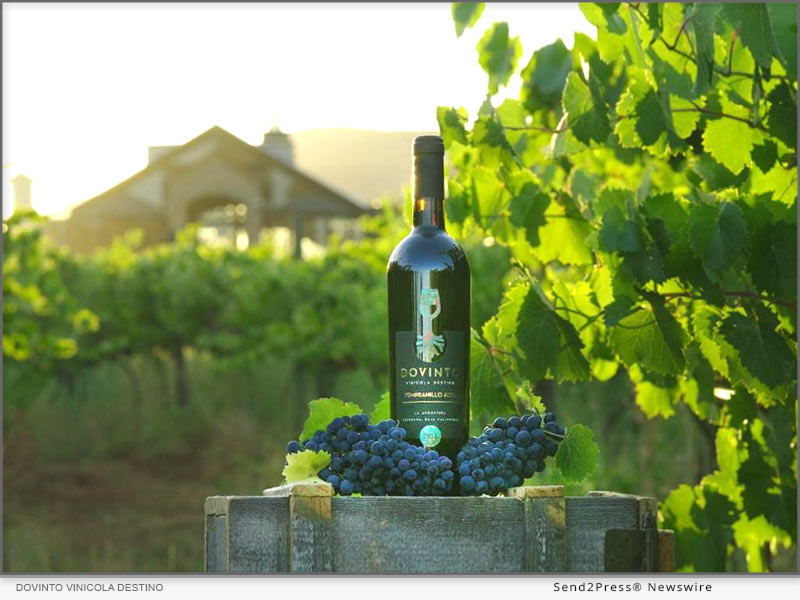 BAJA CALIFORNIA, Mexico, Jul 14, 2023 (SEND2PRESS NEWSWIRE) — Dovinto Vinicola Destino is pleased to announce that its award-wining wines are entering the United States market which was facilitated by the successful completion of the first of its institutional fundraising efforts. With its rich heritage and dedication to producing exceptional wines, Dovinto aims to captivate wine enthusiasts across America with the unique flavors and characteristics of its uniquely-created premium Mexican wines.
Guided by a passion for winemaking and a commitment to sustainable practices, Dovinto has already won awards for its first two vintage years (2017-18) in international competition. The Dovinto vineyards are nestled in the picturesque region of Baja California, the birthplace of wine cultivation in the Americas, where the perfect combination of climate, soil, and elevation creates an optimal environment for grape cultivation. This distinct terroir imparts a distinctive quality to the wines, resulting in a diverse portfolio red and white wines that showcases the true essence of winemaking.
"We have spent the last ten years perfecting the systems and cultivating the grapes for our beyond-organic and sustainable wine-making process," said founder Jesus Sesma. "Our wines represent the culmination of our passion for winemaking, our commitment to sustainability, and the rich heritage of Mexican winemaking. We are confident that American wine lovers will appreciate the depth and complexity of flavors our wines offer."
Dovinto takes pride in its blending traditional methods, innovative techniques and sustainable practices, ensuring that the production process respects the environment and the surrounding communities. By implementing eco-friendly initiatives, such as water conservation, solar energy and organic farming methods, Dovinto strives to protect the natural beauty of the regions where its vineyards flourish. Dovinto manufactures its own bio-fertilizers, bio-fungicides and bio-pesticides on the property, all naturally.
Dovinto has engaged the boutique marketing and consulting firm Digitl Mediums to help introduce Dovinto to the U.S. market.
"To celebrate its entry into the U.S. market, Dovinto will be sponsoring an array of exciting events," said Herbert Dogan, President of Digitl Mediums. "Dovinto will be hosting wine tastings and educational experiences to introduce the intricacies of the Dovinto wine experience. Dovinto's completely organic wine-making process not only makes for a better-tasting wine but also a chemical-free and healthier one."
Assisting in this process is director / cinematographer / editor Nicole Salmeri, who will be creating a brief documentary on the history of Dovinto and its unique wine-making process.
"Dovinto has a fabulous and intimate story, both in its history and its process," said Ms. Salmeri. "I am excited to be part of the process of introducing Dovinto's story to U.S. and worldwide audiences."
Dovinto's wines will soon be available at select retailers, fine dining establishments, and through its online platform, allowing wine enthusiasts nationwide to indulge in the finest expressions of Mexican winemaking.
About Dovinto:
Jesus Sesma established his winery in 2010 with the dream of creating only the finest organic wines that could equal of the world's best. He chose Baja California, the birthplace of wine cultivation in the Americas, as the home for Dovinto Vinicola Destino. Dovinto is an award-winning winery that believes in natural, biological, sustainable and sustainable viticulture. It uses solar energy in 100% of its processes, vinifying without corrections or additives and taking care of the soil because it is the key to our health and a healthy environment. Dovinto manufactures its own bio-fertilizers, bio-fungicides and bio-pesticides on the property, all naturally. No herbicides are used – weeds are manually removed and reincorporated into the soil.
For more information, please visit: https://dovinto.com/en
About Digitl Mediums:
Digitl Mediums is a purpose-built team of strategists, digital marketing experts, creatives, and influencers passionate about building, evolving, and amplifying the reach, voice, people, and product offerings of the brands it represents. Digitl Mediums' collective experience is heavily rooted in sports, art, entertainment, and emerging culture to create the kind of advertising people want to experience, witness, hear, feel, promote, and pay for. Digitl Mediums' principals have been in the industry for over 40 years with experience working with some of the best in the industry, such as Nike, Sprite, Gatorade, Verizon, ADIDAS, and Spark Communications. For more information, please visit: https://digitlmediums.com/
About Nicole Salmeri:
Nicole Salmeri is a NYC- and LA-based director / cinematographer / editor, working on films, commercials, fashion, and music videos. Raised on Rock 'n' Roll and muscle cars, Nicole brings a stylized look, an emotional feel and skillful music edits to everything she touches. With over 13 years of experience, Nicole has worked with clients such as Vogue, Sony Music, Wild Turkey, Sports Illustrated Swimsuit, Moncler, Glossier, Mini Cooper, iD-Germany, Instagram, Amazon Games, Warner Bros. Games, Shutterfly, Dockers, Pinhook Whiskey, Conde Nast and Vice. Nicole's most recent film, "I Love My Mother," premiered at ASVOFF in Paris and the Chelsea Film Festival in NYC. For more information, please visit: https://www.nicolesalmeri.com/
VIDEO (YouTube):

News Source: Dovinto Vinicola Destino
Related link: https://dovinto.com/en
This press release was issued on behalf of the news source, who is solely responsible for its accuracy, by Send2Press Newswire. To view the original story, visit: https://www.send2press.com/wire/dovinto-announces-entrance-to-the-u-s-market-the-completion-of-its-series-a-round-and-partnership-with-digitl-mediums-and-nicole-salmeri/