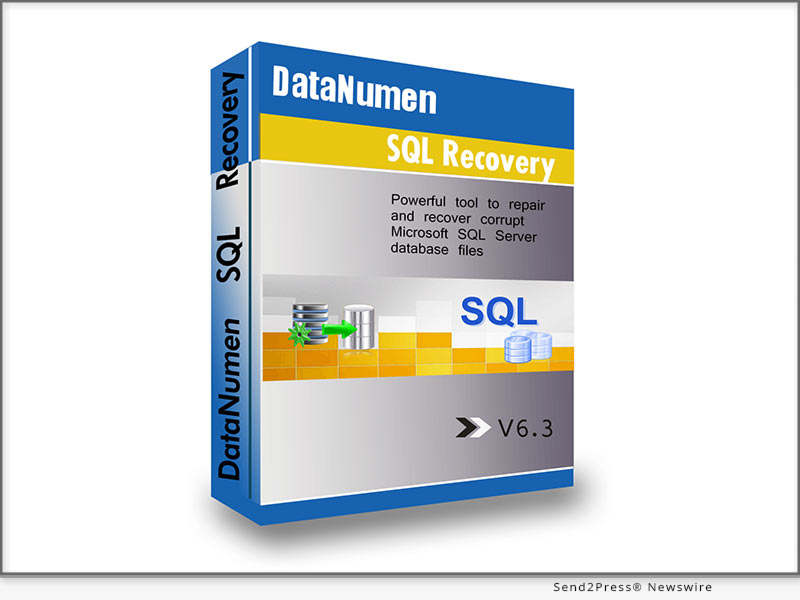 NEW YORK, N.Y., Apr 20, 2023 (SEND2PRESS NEWSWIRE) — DataNumen is proud to announce the rollout of an update to its industry-leading data recovery tool, DataNumen SQL Recovery, which now includes support for SQL Server 2022. With this new feature, DataNumen SQL Recovery becomes a valuable tool for organizations operating in the cloud or with a hybrid infrastructure.
With nearly a 30% greater average recovery rate than its closest competitor, DataNumen SQL Recovery is already the industry standard for data recovery in SQL Server environments.
However, excellence is not stagnant, and even the best must continue to improve itself. Now more than ever, DataNumen is resolute in empowering users with the most recent advances in technology to quickly recover corrupted SQL Server databases.
The latest update, version 6.3, matches improvements to SQL Server databases and user needs and includes full support for SQL Server 2022, Microsoft's latest widely-used database management system. This update enables users to recover their MDF files that get corrupted on-premises or in the cloud. Database administrators (DBA), technicians, and computer users can now rely on DataNumen's cutting-edge technology to support their migration to the cloud and ensure that they do not lose the data in their SQL Server systems.
This update also includes several bug fixes and improvements to the stability and performance of the software, enabling users to recover their data more efficiently than ever before.
With its simple and intuitive interface and support for MDF and NDF files, V. 6.3's update is set to solidify further DataNumen's position as the go-to data recovery provider in the SQL Server space.
Staying Relevant by Staying Ahead
"As more organizations migrate into the cloud, tools that make all aspects of cloud operations possible will become increasingly important, and DataNumen is well-positioned to provide solutions in the data recovery aspects," said Alan Chen, President & CEO, DataNumen.
"With a dedication to ongoing innovation, DataNumen is poised to remain a leading provider of data recovery services for years to come, providing users with comprehensive contemporary solutions, all day, every day."
About DataNumen
An industry first-choice in data recovery solutions, DataNumen is a software company dedicated to helping businesses navigate the murky waters of data management. The company's recovery software is a staple in 130+ countries worldwide. It is also a trustworthy go-to for reputable multinational companies, including HP, Dell, and AT&T.
Bolstered by a fierce drive to mitigate data disasters wherever they may happen, DataNumen continues to explore new technologies to insure the world against heavy data losses.
Links:
Company website: https://www.datanumen.com/
Product page: https://www.datanumen.com/sql-recovery/
Video: https://youtu.be/ejP0kTsJ2xA
Comparison: https://www.datanumen.com/sql-recovery-compare/
Download: https://www.datanumen.com/sql-recovery/dsr.exe
News Source: DataNumen
Related link: https://www.datanumen.com/
This press release was issued on behalf of the news source, who is solely responsible for its accuracy, by Send2Press Newswire. To view the original story, visit: https://www.send2press.com/wire/datanumen-sql-recovery-6-3-now-supports-sql-server-2022-boosting-cloud-based-data-management-capabilities/