DALLAS, Texas — Biometric Signature ID ("BSI") CEO Jeff Maynard announces it has signed a teaming agreement to become a member of a team led by Zolon Tech, Inc. of Sterling, Virginia that was recently awarded a prime contract for the U.S. Department of State's Hybrid Information Technology Support Services (HITSS) program.
Through the HITSS contract, this team will support the State Department's mission at headquarters and field offices throughout the United States and internationally by providing a broad range of IT services including biometrics. The value of the Zolon Tech prime contract for the base year and four one-year options is $90,119,852.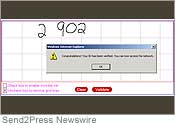 Mr. Maynard stated "BSI is honored to be a member of this highly qualified team. We have a new and exciting relationship with Zolon and are pleased to be able to support the biometric information technology needs of the U.S. Department of State through this important initiative."
The team, in addition to Zolon and BSI, includes: Infinite Group, Inc. (IMCI.OB / OTC:BB IMCI) CDO Technologies, Dominion Post, EADS North America Defense Security and Systems Solutions, General Dynamics Information Technology, Halifax Corporation, Itekras, Inc., Lee Technologies, and WP Cioffi Engineering.
ABOUT BSI
Failure to verify the "real" user is a major source of identity fraud that contributes to over $50B in annual losses. Biometric Signature ID provides solutions to reduce identity fraud. BSI's patent pending BioSig-ID Online(TM) and BioSig-ID WinLogon(TM) are unique Dynamic biometric handwriting and gesture technologies. Activation is from any mouse, stylus or touchpad on any PC anywhere, anytime. BioSig-ID captures HOW you write/draw including your speed, direction, angle and length which are unique to each individual. Users enroll one time to create a profile (stored in a secure database) and thereafter validate their identity in seconds.
The way you draw or write with a mouse cannot be lost, stolen or borrowed – a major concern with PINS, passwords and tokens. When a user ID, password or token is stolen or shared with a colleague, there is no way for the system to know who the actual physical user is. In these situations criminals can commit identity fraud as they now have access to your personal or corporate data. New regulations call for stiff fines and penalties and data breech announcements that are mandatory for companies. Combined with the high costs to repair identity fraud, consumers and companies are demanding a solution. BioSig-ID stops identity fraud by restricting access to only registered users who verify themselves against their stored biometric profile.
BSI's also offers a patent pending Click-ID(TM) technology that is stronger than a "hard" password or personal questions. It requires only clicking on specific objects from a selected image to verify the user's identity. BSI's electronic signature Sig-ID Online(TM) enables users to sign contracts online, thereby increasing revenues and providing proof that the user authorizes the action. BSI offers a complete line of solutions to meet the authentication and authorization needs for a wide range of industries. More information, http://www.biosig-id.com.
ABOUT ZOLON TECH INC
Zolon Tech, Inc., established in July 1998, is an IT services firm that assists its public sector clients by providing cost-effective IT strategic services, data services, enterprise application solutions, and application life cycle support. Accepted into the SBA 8(a) program in December 2003, Zolon is one of only a few 8(a) program participants appraised at Maturity Level 3 of the System Engineering Institute's Capability Maturity Model Integrated (CMMI(R)) and possessing a Quality Management System registered to the ISO 9001:2000 standard. More information, http://www.zolontech.com.