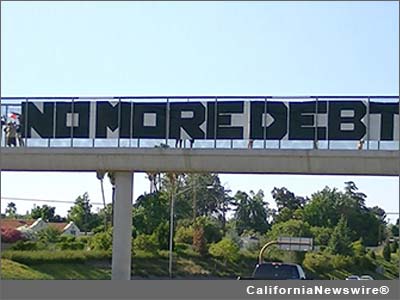 FRESNO, Calif. /California Newswire/ — The Central Valley Tea Party, in conjunction with Merced Tea Party, North Valley Patriots, Mariposa Tea Party, Bakersfield Tea Party, Tehachapi Tea Party and Central Coast Freedom Rallies, has issued commendations to Calif. Congressmen Tom McClintock and Jeff Denham and censures to Congressmen Jim Costa, Kevin McCarthy, Devin Nunes and David Valadao based on their votes on H.R. 2775, the 2014 Continuing Appropriations Act.
The CVTP takes out-of-control federal spending and the continued accumulation of debt very seriously. In June of 2011, the CVTP organized large rallies and a petition drive to deliver the message to congress that "No More Debt" is acceptable. Earlier this month, October 2013, the CVTP again organized a petition drive to deliver the message that any additional funding for Obamacare is unacceptable.
These commendations and censures represent the CVTP's follow-through to hold elected representatives accountable, regardless of their party affiliation.
About The Central Valley Tea Party:
The Central Valley Tea Party grew out of a tax day protest in 2009 that drew well over 8,500 attendees. The CVTP (Including Auberry, Mariposa, Fresno, Reedley, Madera, Kings County, Tulare/Visalia and Sanger and Oakhurst/Coarsegold) and its local affiliates now cover over 22,500 square miles and five counties in Central California.
In addition to its successful protests, the CVTP also achieved election victories in Fresno and Madera Counties. More information: http://www.centralvalleyteaparty.com/ .
About North Valley Patriots:
The North Valley Patriots are comprised of: Turlock Tea Party, Patterson Tea Party, Oakdale Tea Party, Stanislaus Foothill Farmers United, and a new group chapter in Newman.
Copyright © 2013 CaliforniaNewswire® and Neotrope®. California Newswire is a publication of the Neotrope News Network and a U.S. reg. TM of Neotrope.