LA MESA, Calif. /California Newswire/ — Mayor Mark Arapostathis and all members of the La Mesa City Council issued a proclamation on November 9 urging the California State Legislature to pass ferret legalization legislation, non-profit Legalize Ferrets announced today.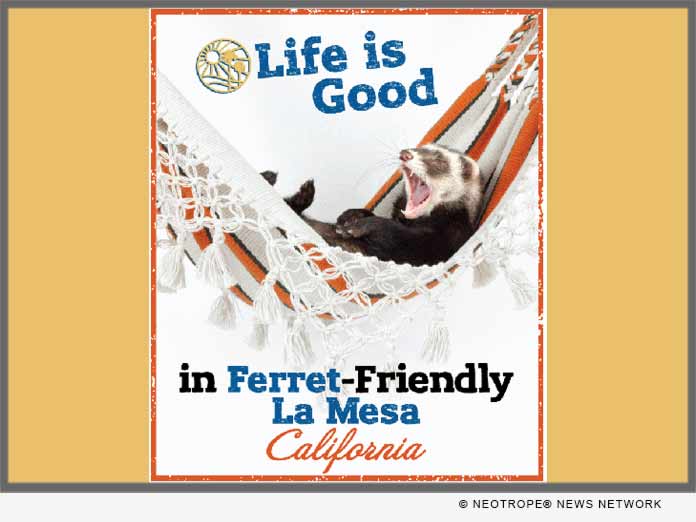 You can read the official proclamation at http://www.legalizeferrets.org/
The original request was for La Mesa to declare itself a ferret sanctuary city. The idea drew support, but many people objected to the term "sanctuary." The request was made to declare La Mesa a "ferret friendly city."
Ferret owners were aided at first by city councilwoman Kristine Alessio who has had experience with Savannah cat legalization issues and knew what ferret owners are facing in a hostile Fish and Game Commission and apathetic California legislature.
"We were also aided by city councilman Bill Baber who sympathized with us for facing another useless and outdated law backed up by an out of touch state agency," said Pat Wright of Legalize Ferrets.
Mayor Mark Arapostathis was an outstanding ally of the ferrets and recommended a proclamation.
Wright added, "We are also grateful to City Councilmen Guy McWhiter and Colin Parent who agreed with the absurdity and cruelty of California's anti-ferret law and signed on to the proclamation."
California ferret lovers continue to be rejected or ignored by California legislators but are achieving support from cities around California. Culver City has already put the ferret issue on their city council agenda and ferret lovers are next set to ask the Encinitas city council.
Now that we have this proclamation we are set to ask cities around California to adopt the ferret friendly resolution.