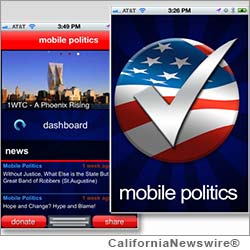 LOS ANGELES, Calif. /California Newswire/ — Catholic Online is announcing their adoption of the new Mobile Politics application for the iPhone to share the social message of the Church. Mobile Politics is being touted as "the most powerful tool in politics since the invention of the ballot."
One of the most exciting features of Mobile Politics is that it enables real-time polling of constituents. This is the first time such a powerful feature has been made available via a mobile application.
The application also allows politicians and advocacy organizations to receive secure contributions via a mobile platform without the need to acquire their own merchant account. This minimizes hassle and makes contributing to a candidate or cause easier than ever before. The application comes with a suite of powerful administrative tools to permit in-depth analysis of constituent feedback as well as automatic reports for easy compliance with campaign finance laws.
Additional exciting features include the ability to share news and alerts, a calendar for organizing and promoting events. Also for the first time ever politicians and advocacy organizations will get their own virtual TV channel via the app, allowing them to connect to their supporters more powerfully than ever before.
The application also enables sharing on social networks to maximize exposure.
Mobile politics will become the must-have mobile application for all advocates and political hopefuls by changing the way they listen to their constituents, collect secure contributions, and communicate with supporters.
Demonstrating its use for political causes as well as for candidates, the first client for Mobile Politics is Catholic Online, which enjoys one of the world's largest faith-based followings on the internet.
Deacon Keith A Fournier, Editor in Chief of Catholic Online, said "Mobile Politics will change the political landscape – and just in the nick of time. There is nothing available like it today. This technology solution is now available for political application. It can also be applied in a myriad of other ways to influence, engage and transform the culture for the good."
Tom Panuzio, President of Mobile Politics added, "We are honored to be able to assist Catholic Online with their political outreach message this election cycle. Mobile Politics was designed for campaigns and political organizations to leverage our platform and directly communicate and mobilize voters nationwide, through their iPhones."
The application is now available from the Apple App Store for iPhones and will soon be optimized for the iPad. An Android version is also in the offing. Visit their website at http://www.imobilepolitics.com.
Catholic Online is more than a website; it is the 800 pound gorilla in the Catholic Marketplace. Visit Catholic Online at http://www.catholic.org.
About Mobile Politics:
Mobile Politics, LLC provides U.S. political candidates, leaders, organizations, and associations direct daily access to U.S. mobile voters through its iPhone application "Mobile Politics." The Mobile Politics app and supporting web-based platform allows candidates, political campaigns, advertisers and other advocacy groups to communicate directly with their constituent base through news, instant polling and alerts. For more information and to download the Mobile Politics app visit: http://www.imobilepolitics.com. Also available on the Apple App Store.
Copyright © 2012 CaliforniaNewswire® and Neotrope®. California Newswire is a publication of the Neotrope News Network and a U.S. reg. TM of Neotrope.