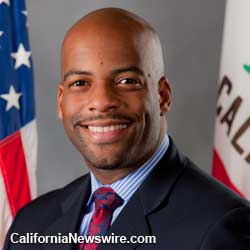 SACRAMENTO, Calif. /California Newswire/ — The California Legislative Black Caucus (CLBC) today announced that due to the resignation of Assemblymember Reginald Byron Jones-Sawyer, Sr. (D – Los Angeles) as CLBC Chair, Caucus Vice-Chair Senator Isadore Hall, III (D –South Bay) has accepted Chairmanship of the twelve member legislative caucus for the remainder of the year. Senator Hall has served as the CLBC's Vice-Chair since 2014. Elections for the remaining caucus leadership positions will take place in the coming days.
Upon accepting the CLBC Chairmanship, Senator Hall released the following statement:
"Assemblymember Jones-Sawyer has done an exceptional job of leading the California Legislative Black Caucus and I am personally grateful for his leadership during this critical time in California's history," said Senator Isadore Hall, III. "As Chair, I remain resolute in my commitment to expand African American representation in the California Legislature; to promote workforce development and vocational education opportunities; to protect and improve access to high quality pre-school for every African American child; to increase African American high school graduation rates; to increase the number of African American students gaining admission and graduating from a California community college, California State University or University of California campus and to take meaningful action to close the achievement and opportunity gap experienced by many African Americans in California."
"We must also stand united with the other Legislative Caucuses and with ethnic communities throughout California to build a state that finds strength in its diversity," continued Hall. "We are a stronger state and a stronger people because of our diversity. By working closely with our friends and allies, the CLBC will remain at the forefront of building a state we can all be proud to call home."
To learn more about the Members, programs and initiatives of the California Legislative Black Caucus, please visit: www.cablackcaucus.org. The public can also stay connected with the CLBC by following @CAblackcaucus on Twitter, Instagram or Periscope.