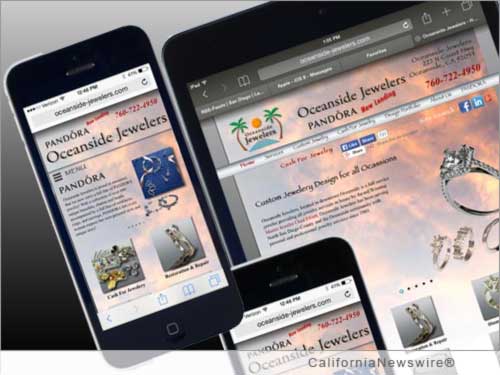 OCEANSIDE, Calif. /California Newswire/ — In an ongoing effort to continually provide a unique jewelry shopping experience centered on consumer education, Master Jeweler Chad Elliott and the certified gemologist staff at Oceanside Jewelers are pleased to announce the release of their upgraded mobile-responsive website.
This means that Oceanside-Jewelers.com will now respond with a specific optimized design tailored to the user's device, whether it is a smart phone, tablet, or desktop computer. With this new addition, Oceanside Jewelers' extensive library of searchable articles and fine jewelry image portfolios are now available to shoppers on the move during this busy holiday season. Included within this web optimization are user-friendly jewelry galleries, focused on custom women's and men's rings, earrings, bracelets and necklaces, all containing a wide variety of precious gems and constructed in fine gold, silver and other precious metals.
Also included is Oceanside Jewelers' latest addition of the Pandora(R) line of charms and jewelry. Pandora is an exciting and interchangeable collection of jewelry with countless possibilities. Celebrating the unique and individual moments in every woman's life, Pandora charms allow you to design your own jewelry that expresses your style and unforgettable moments. Each piece is hand crafted in sterling silver and 14k gold with superior Danish design, and includes a collection of over 600 unique charms and beads, accompanied by a full line of jewelry.
"We realize that almost half of our customers and website visitors are now using their smart phones and tablets to both shop and research their buying decisions on a regular basis. Our goal is to provide them with the best experience and service possible, whether they are visiting the store or our web site in search of valuable information and true value in their purchases," says Chad Elliott Master Jeweler Oceanside Jewelers.
About Oceanside Jewelers:
Oceanside Jewelers is a family owned and operated business located in the heart of downtown Oceanside at 222 North Coast Highway. Oceanside Jewelers has been providing honest and professional jewelry services with a focus on personal customer service for over 20 years. Award winning master jeweler Chad Elliott has designed and manufactured jewelry for many of the top designer brands, and many of these are worn by Hollywood's elite.
Customer education plays an important part of Oceanside Jewelers sense of business and community. In pursuit of this Oceanside Jewelers web site contains a wide range of helpful articles on jewelry craftsmanship, custom designing with diamonds and precious gemstones, traditional handcrafted jewelry construction, cutting-edge jewelry technology, and precious metal grading and selection.
Visit the company websites at:
http://oceanside-jewelers.com/
http://oceansidepawnshops.com/ .
For questions or comments regarding the above news announcement, contact the company/organization(s) mentioned in the text, and not this website.
Copyright © 2014 CaliforniaNewswire® and Neotrope®. California Newswire is a publication of the Neotrope News Network and a U.S. reg. TM of Neotrope.