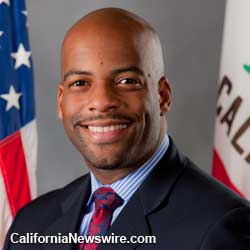 SACRAMENTO, Calif. /California Newswire/ — Calif. Senator Isadore Hall, III (D – South Bay) will be joined by civil rights and minority leaders from throughout California to announce the introduction of SB 1063 (Hall), the Wage Equality Act of 2016. Building upon California's efforts to guarantee equal wages to people of the opposite sex, SB 1063 would prohibit employers from paying employees a wage rate less than the rate paid to employees of a different race or ethnicity for substantially similar work.
Passage of SB 1063 will create the strongest wage equality law in the nation.
Despite being the most diverse and prosperous state in the nation, many California workers continue to suffer from a chronic racial and ethnic wage gap. A 2013 study revealed that Asian American women make 90 cents, African American women make 64 cents, and Hispanic or Latina women make just 54 cents for every dollar that a Caucasian man earns. The wage gap isn't only between men and women, as African American men earn just 75% of the average salary of a Caucasian male worker.
Last year, SB 358 (Jackson) began to address wage inequality by prohibiting employers from paying employees a wage rate less than the rates paid to employees of the opposite sex for substantially similar work. However, gaps in the law still persist. The 65 year old California Equal Pay Act fails to include one of the largest factors for wage inequity – race and ethnicity.
As California continues to grow and diversify, large segments of our state's minority population are facing devastating economic inequality. No employee should be denied an equal wage for an equal day of work. SB 1063 builds upon the important steps California has taken to address wage inequality and will set a new national standard to ensure that every worker is paid a fair and equitable wage.
Who: Senator Isadore Hall, III
Jerilyn Stapleton, California National Organization of Women (Sponsor)
Cassandra Jennings, Greater Sacramento Urban League
Shannon Smith-Crowley, American Association of University Women
Stephen Webb, Sacramento Branch of the NAACP
Representative from the California Federation of Teachers
Representative from The Greenlining Institute
What: Introduction of SB 1063 (Hall), Wage Equality Act of 2016
When: Wednesday, February 17, 2016, 10:30 AM.
Where: Governor's Press Conference Room, State Capitol, Room 1190, Sacramento, CA.
Isadore Hall, III, represents California's 35th Senate District that includes the communities of Carson, Compton, Gardena, Harbor Gateway, Hawthorne, Inglewood, Lawndale, Lennox, Lynwood, North Long Beach, Rancho Dominguez, Rancho Palos Verdes, San Pedro, South Los Angeles, Torrance, Watts/Willowbrook and Wilmington.