SACRAMENTO, Calif. /California Newswire/ — Calif. Senator Isadore Hall, III (D – South Bay), Vice Chair of the California Legislative Black Caucus today released the following statement regarding the recent shooting death of Walter Scott, an unarmed African American man by an officer of the North Charleston Police Department in North Charleston, South Carolina: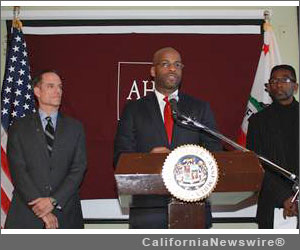 "As Vice Chair of the California Legislative Black Caucus, I was horrified to learn of the recent shooting death of Mr. Walter Scott in South Carolina. The untimely and unnecessary death of Walter Scott by a North Charleston Police Department officer showed callus disrespect for human life. The termination of the NCPD officer's employment and the decision to charge the officer with the murder of Walter Scott was justifiably appropriate. I am hopeful that the justice system will act swiftly to resolve this issue before a court of law.
While the great majority of law enforcement officers across the nation fulfill a daily duty to protect and defend Americans from harm, the death of Walter Scott reminds us all that we must do more. We must do more to train our law enforcement officers on the use of non-lethal force. We must do more to encourage the use of body cameras by officers on duty to protect officers and the public. We must do more to better engage the African American community with law enforcement. We must do more to ensure that law enforcement better reflects the people they serve. We must do more as a community and as a nation to prevent gun violence and prevent further deaths of unarmed Black and other Americans across our land."
Isadore Hall, III, represents California's 35th Senate District that includes the communities of Carson, Compton, Gardena, Harbor Gateway, Hawthorne, Inglewood, Lawndale, Lennox, Lynwood, North Long Beach, Rancho Dominguez, Rancho Palos Verdes, San Pedro, South Los Angeles, Torrance, Watts/Willowbrook and Wilmington.