SAN PEDRO, Calif. /California Newswire/ — Tonight, Calif. Senator Isadore Hall, III (D – South Bay) released the following statement regarding the Pacific Maritime Association's (PMA) decision to shut down vessel loading and unloading at West Coast ports this weekend: "I am extremely concerned and disappointed in the Pacific Maritime Association's (PMA) latest reckless and irresponsible decision to suspend activity at ports along the West Coast this weekend.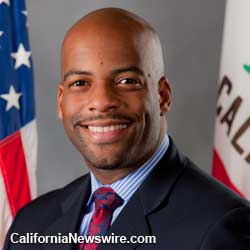 California's ports drive our state's and our nation's economy. The Port of Los Angeles, which is in my district and the neighboring Port of Long Beach are the busiest ports in the United States. The goods that are imported and exported out of these two ports alone feed, clothe and supply vital goods to people all over our country and throughout the world.
The latest actions by the PMA show a blatant disregard for the workers who have built our California's port system, for the small, medium and large businesses across the country that rely on stable and reliable goods movement and for the economic security that these ports provide to our nation.
Instead of working constructively with ILWU, Local 13 towards a fair and responsible labor contract, the PMA has chosen to unfairly penalize workers and has shown willingness to sacrifice the great economic recovery currently underway for their own economic benefit.
The PMA has entered into a very dangerous and unnecessary game. California's and the United States' economic security is no game – it is central to our national security and to the economic wellbeing of nations and continents throughout the world. I demand that the PMA reconsider its decision to suspend port activity this weekend, reopen our ports, re-enter into good faith negotiations with ILWU, Local 13 and stop being a barrier to California's economic recovery."
Isadore Hall, III, represents California's 35th Senate District that includes the communities of Carson, Compton, Gardena, Harbor Gateway, Hawthorne, Inglewood, Lawndale, Lennox, Lynwood, North Long Beach, Rancho Dominguez, Rancho Palos Verdes, San Pedro, South Los Angeles, Torrance, Watts/Willowbrook and Wilmington.