SACRAMENTO, Calif. /California Newswire/ — On Monday, Calif. Senator Isadore Hall, III (D – South Bay) has bestowed fellow Compton, California native and two time Grammy® award winning recording artist Kendrick Lamar the California State Senate's Generational Icon award for his professional accomplishments, charitable work and commitment to the community.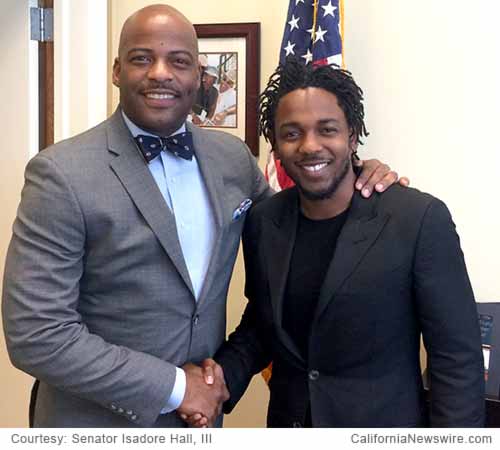 (Photo of Senator Isadore Hall, III and Kendrick Lamar; May 11, 2015)
In less than ten years as a professional artist, Mr. Lamar has gone from the streets of Compton to become a multi-platinum, Billboard and iTunes chart topping, two time Grammy award winning musician. An incredible achievement for anyone 27 years old.
But Mr. Lamar has not let his recent fame get the best of him. For Compton and South Los Angeles residents, Mr. Lamar is a familiar face in the neighborhood, giving back to the community that raised him. He has personally donated thousands of dollars to support sports programs, afterschool programs and music programs in the Compton Unified School District to help keep Compton students off the streets and in the classroom.
Through his work with his own non-profit organization and other organizations such as Habitat for Humanity, Mr. Lamar is not only giving voice to a new generation of urban youth, he is demonstrating the best of what it means to work hard and do well.
"Kendrick Lamar's story is indeed a uniquely California one," said Senator Isadore Hall, III. "It is a story that should encourage others to work hard, accomplish their goals and give back to their community. Similar to my own upbringing, Mr. Lamar has overcome a great deal of challenges to become a voice for young people not just in Compton, but for communities throughout the state and the nation. Great things and great people do come from Compton, California. I am proud to honor Mr. Lamar with this important recognition and even prouder of the great work he is doing to give back to the community that raised him."
In receiving the award, Kendrick Lamar stated, "Being from the City of Compton and knowing the parks that I played at and the neighborhoods, I always thought how great the opportunity would be to give back to my community off of what I do in music…. I thank you from the bottom of my heart for honoring me today."
A video of the award presentation can be viewed on Senator Hall's website at: www.senate.ca.gov/hall
VIDEO:

Isadore Hall, III, represents California's 35th Senate District that includes the communities of Carson, Compton, Gardena, Harbor Gateway, Hawthorne, Inglewood, Lawndale, Lennox, Lynwood, North Long Beach, Rancho Dominguez, Rancho Palos Verdes, San Pedro, South Los Angeles, Torrance, Watts/Willowbrook and Wilmington.