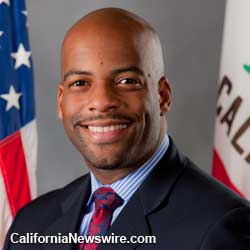 SACRAMENTO, Calif. /California Newswire/ — Calif. Senator Isadore Hall, III (D – South Bay), Chairman of the Senate Governmental Organization Committee and Assemblymember Adam Gray (D – Merced), Chairman of the Assembly Governmental Organization Committee today announced the introduction of identical legislation to legalize intrastate Internet poker (iPoker) in California.
SB 278, by Senator Hall and AB 431 by Assemblymember Gray, would specifically authorize the operation of an iPoker website within California's borders and would require the California Gambling Control Commission in consultation with the California Department of Justice to prepare regulations for the operation of an iPoker website.
Federal law essentially prohibits online gambling by in the United States but does allow individual states to offer intrastate Internet gaming, subject to state regulation to prevent gambling by minors or persons located outside of the state. Currently, only Nevada, Delaware and New Jersey allow for various forms of legal intrastate Internet gaming.
For over five years, a discussion of authorizing iPoker within California has remained only a discussion. No California legislator has ever cast a vote on an iPoker proposal. Hall and Gray serve as Chairmen of each legislative house's policy committee that oversees gaming within the state and are best positioned to lead a productive dialogue on an iPoker regulatory framework. By working together, their legislation seeks to build consensus on a public policy matter that has eluded California for years.
"The issue of iPoker in California has historically been divisive; dealing legislators, the governor and the public a folding hand," said Senator Hall and Assemblymember Gray. "It is time to work together, stop bluffing and take control of this issue. Our bills do not create winners and losers. Our bills do not take one entity's side over another. Our bills will give the Legislature, the Governor, tribal governments, other gaming entities, technology providers and the public an opportunity to have an open, honest and thorough debate on this issue."
"This will not be a rushed process," continued Hall and Gray. "Any iPoker proposal must put California taxpayers first and must ensure a safe and responsible entertainment option for adults. If done correctly, this legislation could serve as a national model for other states to follow. We think we can do it and we're all in to move California iPoker forward this legislative session."
"This iPoker proposal must include a strong regulatory framework that protects Californians," said Assemblymember Gray. "We need to crack down on illegal online gaming and replace it with a safe and responsible entertainment option for adults, which includes safeguards against compulsive and underage gambling, money laundering, fraud, and identity theft."
"We intend to develop a framework in California that can be a national model," said Senator Hall. "This will not be a rushed process. We look forward to moderating an open, honest, and thorough debate."
"Illegal online gambling happens every day in California on sites operated by unknown persons located in countries throughout the world. Neither state nor federal laws provide any consumer protections or safeguards," said Assemblymember Gray.
"California needs a strong law that puts a stop to illegal online gambling," finished Senator Hall.
Isadore Hall, III, represents California's 35th Senate District that includes the communities of Carson, Compton, Gardena, Harbor Gateway, Hawthorne, Inglewood, Lawndale, Lennox, Lynwood, North Long Beach, Rancho Dominguez, Rancho Palos Verdes, San Pedro, South Los Angeles, Torrance, Watts/Willowbrook and Wilmington.
Assemblymember Adam C. Gray represents the 21st Assembly District which includes all of Merced County and portions of Stanislaus County.