SACRAMENTO, Calif. /California Newswire/ — Calif. Governor Jerry Brown (D – California) has signed a package of bills into law by Senator Isadore Hall, III (D – South Bay), which will modernize and diversify development at the Port of Los Angeles and surrounding communities of San Pedro and Wilmington.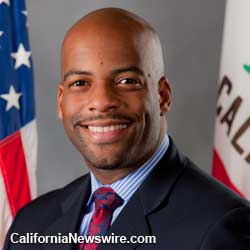 California's ports and harbors are major contributors to the state's economy, employing tens of thousands of workers, investing billions in local and state businesses and creating hundreds of millions in state and local tax revenues. Currently, our ports are losing market share to competitors outside of the state partially because other jurisdictions are subsidizing infrastructure improvements.
SB 63 by Senator Hall will provide ports statewide, including the Port of LA with a valuable financing tool to help improve port infrastructure, address increased shipping volume and improve air quality by investing in technologies to reduce emissions.
The Port of LA and the surrounding San Pedro and Wilmington communities are closely linked to the history and commercial activity along its waterfront. Over the years, due to an expansion in port activity and a reduction of other commercial or residential development, the waterfront area now offers only isolated areas of successful visitor-oriented commercial enterprises amidst a growing inventory of abandoned, vacant or underutilized areas.
To address this inconsistent land use, the City of Los Angeles and the Los Angeles Harbor Department initiated the LA Waterfront planning and development program. This program is focused on establishing a framework for enhancing the San Pedro and Wilmington communities by providing waterfront access with landscaped boulevards, promenades, parks, and urban squares as well as development opportunities that will provide one-of-a-kind experiences for both tourists and residents alike.
San Pedro and the communities surrounding the Port of LA need diversified economic development. Senator Hall's SB 399 will provide the City of Los Angeles with an important tool to promote new waterfront related development, while maintaining the integrity of the State Tidelands Trust.
Senator Hall's legislation will support bold actions taken by City Councilmember Joe Buscaino and the City of Los Angeles to improve and better connect the Los Angeles waterfront area to tourists and the community, generate enhanced public and private investments, promote transit use, create jobs and increase public access to the waterfront.
Isadore Hall, III, represents California's 35th Senate District that includes the communities of Carson, Compton, Gardena, Harbor Gateway, Hawthorne, Inglewood, Lawndale, Lennox, Lynwood, North Long Beach, Rancho Dominguez, Rancho Palos Verdes, San Pedro, South Los Angeles, Torrance, Watts/Willowbrook and Wilmington.