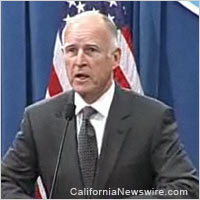 SACRAMENTO, Calif. /California Newswire/ — On Sunday, April 22, 2012, California Governor Brown issued the following Proclamation Declaring Earth Day:
PROCLAMATION BY THE GOVERNOR OF THE STATE OF CALIFORNIA
Energy
All life on Earth depends on the radiant energy of the sun. Even the energy released when we burn fossil fuels originally came to our planet from the sun millions of years ago.
Air
The atmosphere provides us with the oxygen we need and a climate in which we can thrive. It protects us from the radiation and extremes of temperature that exist in outer space.
Rain
Water moves in a constant cycle from ocean to sky, from sky to land and from land to ocean. There is a finite amount of water, but the cycle goes on forever.
Trees
Our existence is rooted in the soil. All of our food comes from plants converting the energy of the sun into forms our bodies can use. The oxygen in the air we breathe is a product of the same process.
Home
These elements together make Earth our one and only home. If we plan to live here much longer, we must learn from nature and develop ways to live and grow without upsetting the balance of the planet that sustains us.
NOW THEREFORE I, EDMUND G. BROWN JR., Governor of the State of California, do hereby proclaim Sunday, April 22, 2012 as "Earth Day."
IN WITNESS WHEREOF I have hereunto set my hand and caused the Great Seal of the State of California to be affixed this 19th day of April 2012.
EDMUND G. BROWN JR.
Governor of California
ATTEST:
DEBRA BOWEN
Secretary of State.