SANTA BARBARA, Calif. /California Newswire/ — Pedro Nava (D-Santa Barbara) announced today that he has been endorsed for Attorney General by two additional animal organizations, PAW-PAC and Action For Animals. "I am proud to have earned these two endorsements," said Nava. "The organizations represent compassionate people all across California who are concerned about animal welfare. It is truly an honor to have their support."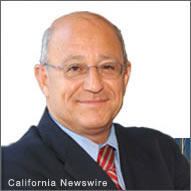 During Nava's tenure in the legislature, he has been a strong advocate for animal welfare issues having authored and successfully passed legislation outlawing lead ammunition to protect the endangered California condor, shutting down puppy mills, increasing penalties for spectators at dogfights, preventing convicted animal abusers from owning animals in the future and stopping landlords from requiring declawing and devocalizing of pets as a condition of tenancy.
Paw PAC is a nonpartisan, nonprofit political action committee dedicated to the passage of humane laws and election of humane legislators.
Action For Animals (AFA) strives to end animal suffering through educational outreach, demonstrations, and media involvement.
The endorsements join a growing list of animal welfare organizations that have already endorsed Pedro Nava, including Human Society Legislative Fund and Orange County's South County Animal Shelter Coalition.
Nava, a former prosecutor in Fresno and Santa Barbara Counties, is campaigning to be California's next Attorney General.
EDITORIAL NOTICE: CaliforniaNewswire does not endorse or support any specific candidate for California government.