SACRAMENTO, Calif. /California Newswire/ — Calif. Assemblymember Kevin McCarty (D – Sacramento) today named children's advocate Tamika L'Ecluse as the Assembly District 7's 2017 Woman of the Year. Ms. L'Ecluse was born in Sacramento and raised by a single mother. After graduating from high school, she enrolled at American River College in hopes of earning an Associate degree in Science, but later shifted her focus to Early Childhood Education, and attended Sacramento City College. In 2006, she completed her early childhood education certification through the National Center for Montessori Education.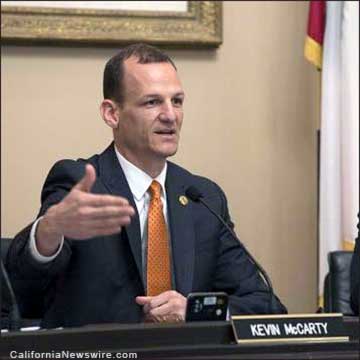 Ms. L'Ecluse became active in her community and social causes at an early age. Following generations of women who took active roles in civil and women's rights, she began her advocacy campaigning against Proposition 22 (marriage inequality) in 2000. She also became a respected advocate for reproductive health options for women, gender equity, LGBTQ rights, children's rights and anti-violence measures. Her advocacy has most recently focused on supporting healthy growth in her community by empowering parents and school officials to promote positive discipline practices.
After thirteen years of teaching in Early Childhood and Early Kindergarten, she joined the Greater Sacramento Urban League as a program manager, working toward reducing African-American child mortality in the Oak Park community of Sacramento. Ms. L'Ecluse has served as board member, Vice President and President of the Oak Park Neighborhood Association, serves on the Board of Directors for the California Montessori Project, is an appointed member of the Sacramento Promise Zone Resident Council and is an active voice for community members who seek social justice, smart growth, and inclusive practices for all.
"Tamika L'Ecluse is a bright light in the Sacramento region, giving inspiration and hope to people in our community and throughout the 7th Assembly District," said Assemblymember McCarty. "I am pleased to honor Ms. L'Ecluse for her commitment and dedication to help students maximize their potential, to build a strong and diverse workforce and to improve the lives of residents throughout Sacramento County."
The Woman of the Year event was created in 1987 to recognize March as Women's History Month and to individually celebrate the contributions and unique accomplishments of women in each of the Assembly's 80 districts.
The 2017 Woman of the Year event took place in the Assembly Chambers of the State Capitol on Monday, March 6, 2017.
(Photo caption L to R: Assembly Republican Leader Chad Mayes (R – Rancho Mirage), Assemblymember Kevin McCarty (D – Sacramento), Tamika L'Ecluse (AD 7 Woman of the Year), Assemblymember Christina Garcia (D – Bell Gardens) and Assembly Speaker Anthony Rendon (D – Paramount) at the 2017 Woman of the Year ceremony.)
Social Media: #WomensHistoryMonth #CALeg
Kevin McCarty represents California's 7th Assembly District, which include the cities of Sacramento, West Sacramento and unincorporated Sacramento County. McCarty serves as Chair of the Assembly Budget Subcommittee on Education Finance.