SACRAMENTO, Calif. /California Newswire/ — Calif. Assemblymember Kevin McCarty (D – Sacramento) this week named United States Army veteran Sergeant First Class Norma Christensen as the Assembly District 7's 2017 Veteran of the Year. Christensen served in the Army for three decades, taking on a range of assignments including Military Police, career counselor and reservist.
For her service, Christensen received a number of commendation, achievement and good conduct medals. Since retiring from the Army, Christensen continued working for the US Army as a Security Adjudicator, processing top secret clearances for military service members and working locally with the Tahoe Park Neighborhood Association and neighborhood watch.
"Se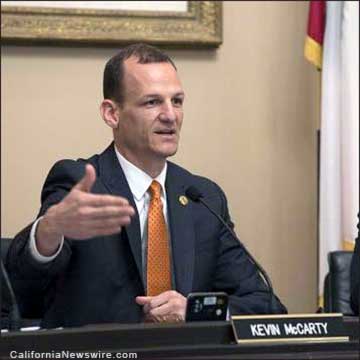 rgeant First Class Christensen served our nation with bravery and integrity through multiple deployments and an unwavering dedication to public service," said Assemblymember McCarty.
"Ms. Christensen embodies the best of the 7th Assembly District I am proud to recognize her for her honorable service to our community and nation."
The Veteran of the Year event was created in 2007 to celebrate the contributions and unique accomplishments of veterans in each of California's 80 Assembly districts.
Kevin McCarty represents California's 7th Assembly District, which include the cities of Sacramento, West Sacramento and unincorporated Sacramento County. McCarty serves as Chair of the Assembly Budget Subcommittee on Education Finance.