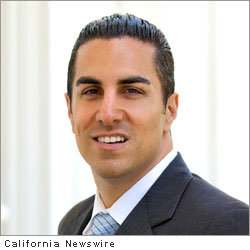 SACRAMENTO, Calif. /California Newswire/ — Calif. Assemblyman Mike Gatto's (D-Los Angeles) legislation to limit corporate "personhood" for federal corporate campaign contributions overcame its first major legislative hurdle today, passing the Assembly Judiciary Committee by a vote of 7-2. The legislation, AJR 1, employs an exceedingly rare procedure outlined in Article V of the United States Constitution, whereby states may demand that Congress act to begin the process for amending the Constitution.
Once ratified by 2/3 of state Legislatures, AJR 1 will require Congress to call a Constitutional Convention for the exclusive purpose of nullifying the US Supreme Court's decision in Citizens United v. Federal Election Commission.
In Citizens United, a divided Supreme Court held that corporations have the same free-speech rights as natural persons. The decision spawned "Super PACs," which have flooded unlimited corporate money into federal elections, further undermining the integrity of the electoral process. Comedians like Stephen Colbert have lampooned the notion that "corporations are people too," and even business leaders like Ben Cohen, the founder of Ben & Jerry's, have started campaigns to overturn the decision. Numerous states have passed non-binding resolutions condemning the Citizens United decision, but Gatto's proposal would be the first piece of legislation requiring Congress to act.
"Actions speak louder than words and I believe that real action is essential now," said Gatto. "Voters are fed up with the notion that money is speech and that big corporate money can drown out the speech of average citizens."
Recent reports indicate that corporations contributed more than 200 million dollars to Super PACs in the 2012 Presidential-election cycle.
"I doubt our Founding Fathers had corporations in mind when they enshrined the freedom of speech in the First Amendment," said Gatto. "But the Founding Fathers did anticipate that every once in a while, the states would need to prod Congress to act, to amend the Constitution."
To pass in California, AJR 1 requires consideration and adoption by the State Assembly and Senate. Upon approval, a copy of the Resolution will be delivered to other state legislatures for consideration. AJR 1 calls for a convention that would be limited to consider the Citizens United decision only. Although a Constitutional Convention has never been called via this method, the state-initiated process has been successfully used to build political pressure in the past, and has fallen short of success by only one or two states on several occasions. In fact, it was individual state legislatures rising up, with this method, that led to Congress passing the 17th Amendment (allowing for the direct election of senators) and the 18th Amendment (repealing Prohibition).
"Americans believe that the U.S. Constitution should be amended to invalidate the Citizens United decision, and this resolution is the beginning of the national effort to do so," said Gatto.
Mike Gatto is the Chairman of the Appropriations Committee of the California State Assembly. He represents the cities of Burbank, Glendale, La Canada-Flintridge, the Los Angeles neighborhoods of Los Feliz, Silver Lake, Atwater Village, and portions of the Hollywood Hills and East Hollywood. More information: www.asm.ca.gov/gatto