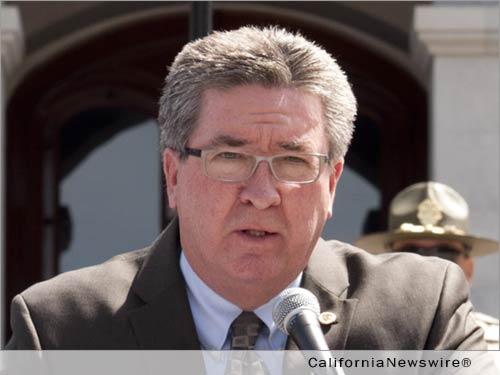 SACRAMENTO, Calif. /California Newswire/ — On Tuesday, April 8, Crime Victims United of California presented Calif. Assemblyman Ken Cooley (D-Rancho Cordova) with its 2014 Legislator of the Year Award. Crime Victims United presented Cooley with the award for his support on a variety of bills that strengthen public safety efforts and protects victims' rights.
"I am greatly honored to be presented with this distinction," said Assemblyman Cooley. "Beginning 30 years ago, I worked on legislation to put together the first county programs statewide to fund child abuse prevention. Today, we still need new and strengthened awareness and efforts to combat this type of abuse and human trafficking. Much of my work locally and as an Assemblyman has been to that end. Additionally, as the new Chair of the Select Committee on Foster Care, I will continue my work to protect young victims of sexual abuse and human trafficking."
Assemblyman Cooley authored Assembly Bill 934 which requires that any agency collecting restitution on behalf of crime victims make a reasonable effort to locate the victim before the agency distributes the money to itself. Governor Brown signed AB 934 into law last Fall.
He also authored Assembly Bill 883 which authorizes counties to create a multi-year plan to address child sexual abuse that emphasizes community collaboration and education, training on identifiable risks and warning signs, local prevention plans and data collection. According to the Center for Disease Control, 1 in 4 women and 1 in 6 men are sexually abused before the age of 18. This bill is awaiting a hearing in the Senate Human Services Committee.
"We have made great strides in advocating for important policy changes, and count legislators like Assemblyman Cooley as great allies in our work to protect those who have been victimized," said Harriet Salarno, President of Crime Victims United of California. "We saw great success in 2013 with the passage of nine bills we supported. We will continue to educate legislators on the impacts violent crimes have on our communities, and support legislation that will help keep people from becoming victims in the future."
According to recent Justice Department statistics, in 2012, 3,047 violent crimes were reported in Sacramento County. Of those, 1,830 were from aggravated assault, 999 from robbery, 186 from forcible rape, and 32 from murder. During that same time, 6,406 domestic violence-related calls for service were made in the county. 2,722 of them involved a weapon.
Assemblyman Ken Cooley represents the 8th Assembly District which includes the communities of Arden-Arcade, Carmichael, Citrus Heights, Rancho Cordova, Rancho Murieta, Rosemont, Wilton and other portions of unincorporated Sacramento County.