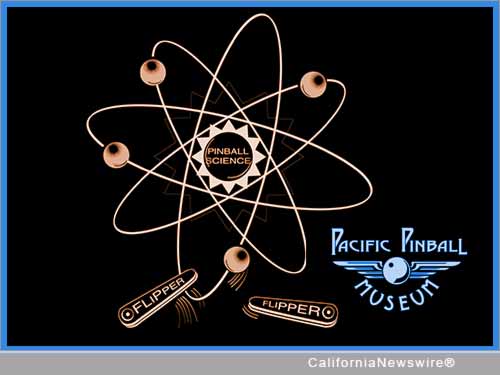 SAN FRANCISCO, Calif. /California Newswire/ — In furtherance of its mission: to teach art, science and history through pinball while preserving this unique part of American culture, the Pacific Pinball Museum (PPM) will be recreating a room within its facility to strictly focus on teaching science through pinball.
Three new exhibits, hand-crafted in the PPM workshop, will make their debut as part of the collection on display at the museum Friday, July 10, at 7 p.m.
These original creations by PPM Executive Director Michael Schiess and his brother Christian, encourage PPM visitors to perform experiments in electricity, physics, and statistics, while teaching principles of electromagnetics, engineering and geometry. In addition, three more exhibits will debut at the PPM, titled "The Conical Slices." This trio of fun Geometry exhibits was designed and built by Dick Falkard, former exhibit designer for the Exploratorium.
"Boy am I excited about this opening," said Michael Schiess. "These exhibits are truly a lot of fun, and educational as well."
The exhibits are designed for use by visitors of all ages, and are included in the regular admission price which includes unlimited pinball play. Signage shows how the exhibits should be used to perform experiments that will spark discussion of principles underlying mechanics and modern technology, computer science and more. These pieces are the start of a series of exhibits that are fun to experiment with. They teach using the premise of engaging the visitor interactively with amusement. In "playing" the game, they learn a concept such as probability from the Galton Pinball Machine. The Pin Chime uses a steel playfield with magnetic bells and chimes to introduce geometry and physics. The Visible Pinball Machine is a centerpiece that is capable of sparking an interest in many areas from electronics to computer sciences.
"We're proud to display this unique aspect of our collection," said PPM Curator Melissa Harmon. "These exhibits show our commitment to educating our visitors while they have an absolute blast playing with them."
The Science exhibits include:
The Visible Pinball Machine – The first one built, this prototype translucent pinball machine still plays well today after near-constant play over the last 8 years. This one exhibit has inspired many to find out more about electricity, engineering and technology. Originally a 1976 Gottlieb "Surf Champ" 4-Player electromechanical pinball machine, "The Visible Pin" was completely rebuilt with a clear cabinet so that players and spectators can see how the machine works, inside and out.
The Gottlieb Reset Simulator Kiosk – This free-standing video screen loops a short computer animation of how a flipper coil works. An amazing video simulation follows depicting how the reset on the Visible Pinball machine works, highlighting each sequence electrically and mechanically. Electromechanical enthusiast Steve Fury created these high-resolution computer animations and has graciously allowed the PPM to put them on display.
The Pin Chime – This simple steel playfield features magnetic bells and chimes, and is perfect for introducing someone to the physics and geometry of pinball. This exhibit uses wooden balls and a regular spring-loaded ball shooter. The sounds emanating from the Pin Chime are heavenly and appeal to all ages as players arrange the chimes on the playfield to produce the perfect combination of sounds as the ball ricochets off them.
The Galton Pinball Machine – Named for famed 19th Century Statistician Sir Francis Galton, the PPM has recreated this scientist's experiment in pinball form, proving there is a natural order to the outcome of certain situations. A large playfield with many posts obstructing the path of launched balls, the Galton Board will produce a bell curve each game as balls settle into predictable locations.
The Conical Slices – Dick Falkard developed his "Conical Slices" exhibits for the geometry show at The Science Center in Amarillo, Texas. These fun to play exhibits always give you a hole in one. Using geometric shapes: the parabola, the ellipse and the hyperbola, a ball is aimed to reflect into a hole and it goes in every time, no matter where you aim it.
"These are quite satisfying for the inept since you get a hole in one every time you play," said Michael Schiess with a laugh. "You can't miss with these. Conical Slices is a little slice of genius you can enjoy and learn from."
The PPM Science Room will allow visitors to have fun while learning and may create a new form of sharing knowledge. This room's opening is the first motion towards expanding offerings at the museum that teach scientific principles. Among other productions, Michael Schiess will offer an Introduction to Electricity class starting Wednesday, July 29, 2015.
The Pacific Pinball Museum is a 501(c)(3) nonprofit dedicated to teaching art, science and history through pinball, and to preserve and promote this important part of American culture.
Find out more at http://pacificpinball.org/.
The Museum is located at: 1510 Webster Street, Alameda, CA 94501, USA.
For questions or comments regarding the above news announcement, contact the company/organization(s) mentioned in the text, and not this website.
Copyright © 2015 CaliforniaNewswire® and Neotrope®. California Newswire is a publication of the Neotrope News Network and a U.S. reg. TM of Neotrope.