Sonoma News - business, entertainment and technology news from Sonoma, California
SONOMA, Calif. -- Discover the secrets of exceptional food and wine during an extravagant full-immersion culinary weekend, hosted by From Farm to Table, a gourmet travel company in Sonoma, Calif. Today, they announced the kick-off of a summer series of culinary and wine tours in a region that is world-renowned for its vineyards and artisan food producers.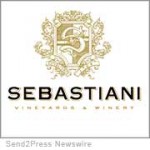 SONOMA, Calif. -- Sebastiani Vineyards and Winery has been informed that its 2005 Dutton Ranch Chardonnay will be served during the visit by Pope Benedict XVI to the White House on Wednesday April 16th, 2008. Sebastiani has been sourcing fruit from the Dutton Ranch since 1985.