SONOMA, Calif. — Sebastiani Vineyards and Winery has been informed that its 2005 Dutton Ranch Chardonnay will be served during the visit by Pope Benedict XVI to the White House on Wednesday April 16th, 2008.
Sebastiani has been sourcing fruit from the Dutton Ranch since 1985. Fruit for this wine came from two of the vineyard's most prized blocks, Gerbeth and Rued Flats.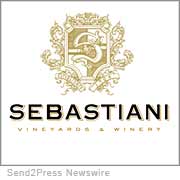 "To be singled out as one of the wines to be served at an official White House function of this stature is truly an honor," said Mary Ann Cuneo, President and CEO of the winery.
About Sebastiani Vineyards and Winery
Located at 389 Fourth Street East in Sonoma, California, Sebastiani Vineyards and Winery is in its second decade of family winemaking in Sonoma.
The winery produces award winning wines exclusively from Sonoma County appellations, including its popular Sonoma County varietals, small lots of appellation specific wines and the highly acclaimed Secolo and Cherryblock Cabernet Sauvignon.
More information: http://www.sebastiani.com .
[tags]Sebastiani Vineyards and Winery, visit by Pope to White House, Dutton Ranch Chardonnay, Sonoma wine maker[/tags]