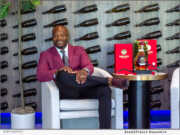 BEVERLY HILLS, Calif. /California Newswire/ -- Cardinal du Four, 21 Rébellion, a flagship spirit for the Armagnac world and the modern connoisseur's answer to Cognac, has partnered with international businessman, Kofi Nartey, as its first brand ambassador. After hosting several successful events together, the Armagnac maker and the Beverly Hills based real estate broker saw the alignment and knew a partnership was inevitable.
CHICAGO, Ill., Oct. 5, 2021 (SEND2PRESS NEWSWIRE) -- Girls Who Travel, a popular women's travel group with over 81,000 members from over 100 countries, has undergone a rebranding. The popular group will now operate under the name Her Adventures. This change comes after Facebook recently selected the platform for the 2021 Facebook Community Accelerator Program.
HUNTSVILLE, Ala., Oct. 5, 2021 (SEND2PRESS NEWSWIRE) -- 1st Edge, a leader in designing pragmatic solutions using Artificial Intelligence and new technologies, announced the win of a $46M Other Transaction Authority (OTA) contract to develop Artificial Intelligence solutions for the US Army. The contract continues an effort named Pragmatic Artificial Intelligence and New Technology (PAINT).
OREGON CITY, Ore., Oct. 5, 2021 (SEND2PRESS NEWSWIRE) -- When Dee Lake found out she had an aggressive form of breast cancer this past September, she decided to take matters into her own hands. Not typically the type of person to ask for help, she put her qualms aside and launched a GoFundMe campaign where she's asking for $45,500 - the amount needed to start treatments at CMN Hospital for Alternative Cancer Treatment.
LOWELL, Mass., Oct. 5, 2021 (SEND2PRESS NEWSWIRE) -- The Lowell Chamber Orchestra has been awarded third place in The American Prize Competition for the Performing Arts. The orchestra was recognized for their performances in its inaugural season, in a division that appraises professional orchestras around the United States.
COQUITIAM, B.C., Oct. 5, 2021 (SEND2PRESS NEWSWIRE) -- Aging is a reality that we all deal with, with age-related diseases creating a massive burden on our healthcare system. Now, Drink HRW reports that a new randomized, placebo controlled clinical trial that followed elderly participants for 6 months, published online October 1st in Experimental Gerontology, explains that high doses of hydrogen water (HRW), delivered via hydrogen tablets, could be an effective strategy at improving multiple age-related measurements and outcomes in an elderly population.
DENVER, Colo., Oct. 5, 2021 (SEND2PRESS NEWSWIRE) -- ACES Quality Management® (ACES), the leading provider of enterprise quality management and control software for the financial services industry, announced that its CEO Trever Gauthier has been honored by industry trade publication HousingWire in its annual Vanguard Awards program.
GROTON, Conn., Oct. 5, 2021 (SEND2PRESS NEWSWIRE) -- Chelsea Groton Bank was recently named a Top Workplace in Connecticut for the sixth consecutive year, and Michael Rauh, the Bank's President and CEO, was presented with this year's Leadership award, both in the midsize employer category (150-499 employees).
DANBURY, Conn., Oct. 5, 2021 (SEND2PRESS NEWSWIRE) -- Promontory MortgagePath LLC, a leading provider of comprehensive digital mortgage fulfillment services, announced Guild Mortgage Correspondent as the most recent addition to its investor network. As part of its comprehensive mortgage fulfillment services, Promontory MortgagePath manages investor relationships on behalf of its community lending clients.