BURBANK, Calif. /California Newswire/ -- Award-winning Toastmaster Jeff Rector, of Toastmasters International District 52, invites film industry professionals and film enthusiasts to secure their VIP All-Access Passes to the Festival Screenings, Red Carpet Events, Parties and Closing Night Dinner & Gala Awards Show. The Burbank International Film Festival (BIFF) is proud to celebrate its 13th anniversary in the "Media Capital of the World."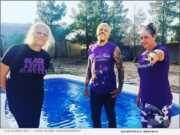 LAS VEGAS, Nev., Sept. 8, 2021 (SEND2PRESS NEWSWIRE) -- Push Global Entertainment is proud to have hosted "2021 Listening Party Las Vegas" a music performance competition in Las Vegas, Nevada that saw some of the brightest Rock, Hip-Hop and R&B rising stars compete for major label distribution and a marketing budget.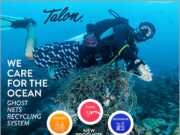 WOODLAND HILLS, Calif. /California Newswire/ -- After years of meaningful development, Talon International is proud to announce the launch of its innovative Ghost Net Products. The company successfully developed a solution to improving marine habitats by collecting and recycling the surplus of plastic waste that has consumed our beloved oceans.
LOS ANGELES, Calif. /California Newswire/ -- Legacy Launch Pad Publishing is releasing the first book by angel investor, CPA, Columbia Business School alumni, non-profit founder and podcaster Mimi MacLean. "How to Be a Badass Female CEO: Slay the Competition and Reach the Top" (ISBN: 978-1951407681) is designed to help women succeed in male-dominated roles.
SAN FRANCISCO, Calif. /California Newswire/ -- Nomis Solutions (Nomis), a global, industry-leading pricing and profitability management solutions provider, today announced that senior product manager Erik McNally has been named a 2021 HW Insiders Award honoree by industry trade publication HousingWire. The HW Insiders award program honors operational superstars in housing that are driving their companies and clients forward.
ST. CLAIRSVILLE, Ohio, Sept. 8, 2021 (SEND2PRESS NEWSWIRE) -- The inventor of the Ruby Slipper Swivel Car Seat Cover, Katherine Miles, is excited to announce that this deceptively simple mobility product has earned the New Product Pavilion Providers' Choice Bronze Award at the 2021 Medtrade West national trade show. Sponsored by HomeCare Magazine, the honor highlights the potential of the Ruby Slipper to make a difference in the lives of seniors and others with limited mobility.
NEW YORK, N.Y., Sept. 8, 2021 (SEND2PRESS NEWSWIRE) -- The Museum of Sex, NYC is proud to announce that as of September 1, 2021, Zoya Cherkassky's drawing "Untitled" from her "Women Who Work" series and Louis Soubrier's Siège D'Amour Love Chair will be on view in the second floor exhibition "Artifact [xxx]: Selections from Secret Collections." The Museum recently acquired the chair from M S Rau LLC, New Orleans and the drawing from Fort Gansevoort Gallery, NYC for the permanent collection.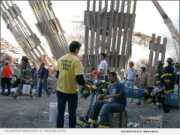 NEW YORK, N.Y., Sept. 8, 2021 (SEND2PRESS NEWSWIRE) -- Saturday marks the 20th anniversary of the 9/11 attacks on the World Trade Center in New York. The Church of Scientology International honors the rescue workers and the Scientology Volunteer Ministers who served them. The unsung heroes who responded to the attacks at Ground Zero 20 years ago on September 11 brought hope and renewed belief at a time when an affirmation of the basic goodness of Mankind was sorely needed.
SCOTTSDALE, Ariz., Sept. 8, 2021 (SEND2PRESS NEWSWIRE) -- Monetary Metals announces a 150% increase in its financing of Gold Bullion International's expansion of its 22- and 24-karat luxury gold jewelry collection, Auvere™. Gold Bullion International (GBI) is paying 4% on the gold lease. Leased inventory is off-balance sheet, and the jeweler avoids exposure to the price of gold.
LAS VEGAS, Nev., Sept. 8, 2021 (SEND2PRESS NEWSWIRE) -- The second annual Beatrice Shipley Scholarship - created by the Gemological Institute of America (GIA) and the American Gem Society (AGS) in 2019 - was awarded to Rachel Burazer, a sales associate and custom designer at Argo & Lehne Jewelers, an AGS member store in Columbus, Ohio.
DELRAY BEACH, Fla., Sept. 8, 2021 (SEND2PRESS NEWSWIRE) -- The Spodak Dental Group team is committed to helping their patients not only achieve their smile goals, but also their overall comfort in and out of the dental chair. While nitrous oxide has been offered as an effective treatment for anxious or fearful patients, it has now been shown to help with patients who suffer from depression.