PASADENA, Calif. /California Newswire/ -- KROST CPAs and Consultants, Los Angeles-based firm, receives two new accolades from Accounting Today, Top 100 Firms and Fastest-Growing Firms in the U.S.
BLUE BELL, Pa., April 5, 2021 (SEND2PRESS NEWSWIRE) -- As COVID-19 lingers on, management teams across the country are struggling to find effective ways to keep their workforce safe and healthy while also keeping productivity levels up. Wellness Coaches offers a comprehensive look into an overlooked workforce demographic in their new whitepaper, "Smoking Cessation During a Pandemic: A look at the medical and financial costs of smoking for people and organizations."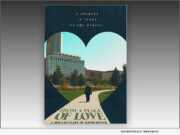 COLUMBUS, Ohio, April 5, 2021 (SEND2PRESS NEWSWIRE) -- ByDam Multimedia announces its latest release: "From A Place of Love - My Adoption Journey," an award-winning documentary film from Writer, Producer, Director David Bynum.
CHARLESTON, W.Va., April 5, 2021 (SEND2PRESS NEWSWIRE) -- Kids Read Now has partnered with school districts across West Virginia, including Mineral County Schools and Nicholas County Schools, to mail books directly to their students' homes over the summer. The number of students in the Kids Read Now program continues to grow with almost 400,000 books being mailed to students in 2020 alone!
SILVER SPRING, Md., April 5, 2021 (SEND2PRESS NEWSWIRE) -- It's been a busy and productive legislative season for the American College of Nurse-Midwives (ACNM). The organization is anticipating several wins across the country, but right now is thrilled that two bills in the Commonwealth of Virginia were signed by Governor Ralph Northam this month.
DALLAS, Texas, April 5, 2021 (SEND2PRESS NEWSWIRE) -- Baxter Clewis Consulting, an international consultancy on cyber security, announced today that it has joined the PCI Security Standards Council (PCI SSC) as a new Participating Organization. Baxter Clewis will work with the PCI SSC to help secure payment data worldwide through the ongoing development and adoption of the PCI Security Standards.
MINNEAPOLIS, Minn., April 5, 2021 (SEND2PRESS NEWSWIRE) -- The Association for Black Economic Power (ABEP) is reaffirming its commitment to bringing a black owned and operated Credit Union to North Minneapolis.