SAN FRANCISCO, Calif. /California Newswire/ -- Today, AtomBeam launches its free Customer Portal, giving prospective customers limited access to AtomBeam's patented, radical new AI software. Using the portal, prospective customers can validate actual reductions achievable in IoT data transmission (typically 75%).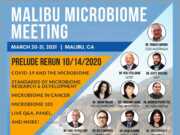 VENTURA, Calif. /California Newswire/ -- Dr. Sabine Hazan, founder of ProgenaBiome, a genetic sequencing lab in California, achieved rapid improvement in Alzheimer's disease (AD) symptoms in an 82-year-old male patient following fecal microbiota transplantation (FMT).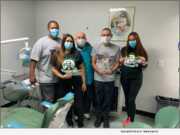 SAN BERNARDINO, Calif. /California Newswire/ -- Vibrant Green for Vibrant Peace and Vernon Dental Specialties pulled together with 911Biocare to show their gratitude and appreciation to the heroic firefighters who are effortlessly fighting to tame the Eldorado and Bobcat fires.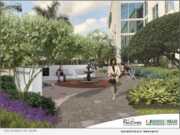 DEERFIELD BEACH, Fla., Oct. 7, 2020 (SEND2PRESS NEWSWIRE) -- The Pap Corps Champions for Cancer Research will unveil the vision for its eagerly awaited "Garden of Hope" project at Sylvester Comprehensive Cancer Center in Deerfield Beach, during a free, virtual event October 15, 2020, beginning at 6 p.m. The Zoom webinar, co-hosted by Sylvester Director, Stephen D. Nimer, M.D., will showcase beautiful renderings of the garden.
NEW YORK CITY, N.Y., Oct. 7, 2020 (SEND2PRESS NEWSWIRE) -- The importance of maintaining healthy social distancing and stopping the spread of COVID-19, Dominican Film Festival in New York City (DFFNYC) will hold its ninth edition online, October 20-30, 2020. These challenging circumstances have not prevented the festival from continuing to be the largest and most impressive film festival outside the borders of the Dominican Republic.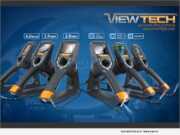 TRAVERSE CITY, Mich., Oct. 7, 2020 (SEND2PRESS NEWSWIRE) -- With 2020 continuing to be an unpredictable year, third-quarter sales for North America's number one video borescope company mirrored forecasted figures from 2019. With nearly every industry and application relying on borescopes for remote visual inspections, ViewTech Borescopes VJ-3 continues to experience a steady increase in sales.
LEHI, Utah, Oct. 7, 2020 (SEND2PRESS NEWSWIRE) -- SimpleNexus, developer of the leading digital mortgage platform for loan officers, borrowers, real estate agents and settlement agents, today announced the availability of its recently launched hybrid eClosing feature on the Ellie Mae Digital Lending Platform.
ATLANTA, Ga., Oct. 7, 2020 (SEND2PRESS NEWSWIRE) -- Arizona-based independent mortgage lender VIP Mortgage reported that it has generated hundreds of extra deals in Q2 of 2020 with the help of Surefire Power Messaging from Top of Mind Networks (Top of Mind), a leader in customer relationship management (CRM) and marketing automation software for the mortgage lending industry.
SAN JUAN, Puerto Rico, Oct. 7, 2020 (SEND2PRESS NEWSWIRE) -- Celeres Capital, an investment and advisory firm based in San Juan, Puerto Rico, announced that the U.S. territory has secured a leadership role in communication technology with the Puerto Rico 5G Zone initiative. This laboratory is primed to enable companies, government entities, and academia to test applications and build new use cases for 5G networks, securing Puerto Rico's future success.
DANBURY, Conn., Oct. 7, 2020 (SEND2PRESS NEWSWIRE) -- HousingWire, a national news source for the mortgage and housing industry, has named Promontory MortgagePath LLC founder and CEO Gene Ludwig as a recipient of the 2020 Vanguard Award based on his innovative service to the housing, mortgage, and finance industry.