SAN FRANCISCO, Calif. /California Newswire/ -- Certain Lending released a national survey of real estate investors. A majority of real estate investors expect COVID-19 will cause home prices to decline up to 20%. The survey of 569 real estate investors across the U.S., conducted between April 20 and 24, is the first of its kind.
NEW YORK, N.Y., May 4, 2020 (SEND2PRESS NEWSWIRE) -- Edamam, a nutrition data company, is working with Microsoft's Bing team to bring deeper nutrition data to consumers. Edamam provides Bing with very detailed nutrition data for a big percentage of recipes appearing in the search engine's results.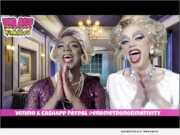 ATLANTA, Ga., May 4, 2020 (SEND2PRESS NEWSWIRE) -- Y'all ready for a second helping? Wussy Mag, Queer Appalachia, and Southern Fried Queer Pride, three powerhouse stewards of Southern and Appalachian queer culture, have teamed up again to bring you "The Big Ass Telethon to End Metronormativity: PART TWO." The livestream event celebrating rural queer artists will air on Saturday, May 30 at 5pm PDT/8pm EDT on Twitch at @endmetronormativity.
SAN DIEGO, Calif. /California Newswire/ -- ComForCare Home Care North County San Diego, a leading provider of in-home care services, has partnered with OverSightMD Inc., the leader in employee & patient population oversight, to deliver daily employee and patient wellness screenings that can help to detect symptoms of COVID-19 and other communicable disease infections.
COLLIERVILLE, Tenn., May 4, 2020 (SEND2PRESS NEWSWIRE) -- According to 2002 study popularized by Joseph Epstein of the New York Times "81 percent of Americans feel that they have a book in them - and should write it." This equates to roughly 170 million adults over the age of 18 out of the entire United States population alone says InstantPublisher; a conservative number of potential authors. Maybe you are one of them.
SALT LAKE CITY, Utah, May 4, 2020 (SEND2PRESS NEWSWIRE) -- Mortgage document preparation vendor International Document Services, Inc. (IDS), announced it has expanded the capabilities of its eClose platform to include eNotes. Recently branded as Solitude Solution, the platform's eClosing capabilities allow lenders and borrowers to execute loans digitally.
NEW YORK, N.Y., May 4, 2020 (SEND2PRESS NEWSWIRE) -- Paragon Insurance Holdings, LLC, headquartered in Avon, Connecticut, a national MGA, announced today that it has closed on the purchase of Trident Public Risk Solutions (TPRS). Acquired from Argo Group (Argo), the transaction positions Paragon as one of the largest providers of commercial insurance coverage for public entities in the U.S.