FORT LAUDERDALE, Fla., May 21, 2019 (SEND2PRESS NEWSWIRE) -- BECOMING, an organization providing mindfulness and meditation tools and retreats for those navigating major life transitions, announced today the kickoff of the first full-day meditation retreat of its kind for divorcing individuals in South Florida on Saturday May 25, 2019.
HONG KONG, May 21, 2019 (SEND2PRESS NEWSWIRE) -- FlexClip, the easy and free online video maker from PearlMountain Limited, empowers everyone to create engaging videos. Today the company announced that they have integrated millions of stock media choices and introduced a whole new GUI, further enhancing the user experience.
LOS ANGELES, Calif. /California Newswire/ -- From a creative and highly imaginative author and multimedia artist, Marsha Ross, comes an eloquent, erotic and extremely engrossing poetic anthology - "INSIDE HOLLYWOOD" (ISBN: 978-1544031002). This collection of thoughts, poetry, lyrics, art and erotica, was inspired by her experiences in Hollywood, and unveils the true quintessence of passion, romance and love.
NEW YORK, N.Y., May 21, 2019 (SEND2PRESS NEWSWIRE) -- Wondershare, known for its amazing creativity and simplicity, offers Recoverit Data Recovery that assures USB partition recovery with no difficulties. Being able to work on Windows and Mac operating systems, recovering from various data loss scenarios is no sweat for it. Appreciated by popular media sites, it can be considered as one of the leading software for hard drive partition recovery.
ALPHARETTA, Ga., May 21, 2019 (SEND2PRESS NEWSWIRE) -- Ashtanga House of Yoga, LLC is a new studio dedicated to the power of the Ashtanga practice and is located at 11890 Douglas Rd Suite 109, Alpharetta, GA 30005. Ashtanga House of Yoga welcomes students of all levels and yoga backgrounds.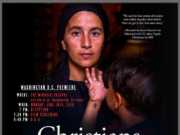 WASHINGTON D.C., May 21, 2019 (SEND2PRESS NEWSWIRE) -- "Christians in the Mirror: Stories of Courage and Faith in the Face of Persecution From Syria, Iraq, India, Sudan and Egypt" will premiere Monday, June 10 at the Miracle Theatre in Washington D.C. from 7 to 9:30 p.m. Joshuacord, a non-profit 501(c)(3) organization, is honored to share with the community this one-of-a-kind film that reveals the intense suffering of persecuted Christians in the Middle East, Asia and Africa.
NEW YORK, N.Y., May 21, 2019 (SEND2PRESS NEWSWIRE) -- Recoverit favorably works for recovering lost partition using its advanced technology sans harming any data. Made by Wondershare, it is committed to easing the stress of lost partition recovery and takes every possible effort to make the users satisfied.