SAN DIEGO, Calif. /California Newswire/ -- Lower Extremity Fellows, Residents and Young Surgeons from leading US Orthopaedic and Podiatric Surgery Centers and Hospitals will attend the 2nd annual Lower Extremity IEP Fellows & Young Surgeons' Course, to be held in Denver, Colo., May 3 - 5, 2019, Magnifi Group announced today.
RANCHO CUCAMONGA, Calif. /California Newswire/ -- With the emergence of Fractional Leadership Roles in the business community, local consultant Kevin A. Nye recently introduced Fractional Chief Operating Officer (COO) services for small businesses in Southern California.
TORRANCE, Calif. /California Newswire/ -- DocMagic, Inc., the premier provider of fully-compliant loan document preparation, regulatory compliance and comprehensive eMortgage services, announced that MReport magazine has named company president and CEO Dominic Iannitti one of its Top 25 Industry Leaders & Influencers for 2019.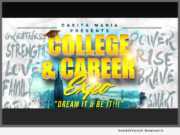 BRONX, N.Y., Feb. 14, 2019 (SEND2PRESS NEWSWIRE) -- Casita Maria Center for Arts & Education is proud to present College & Career Expo: Dream It & Be It! The College & Career Expo offers students a chance to learn about higher education and careers they might be interested in.