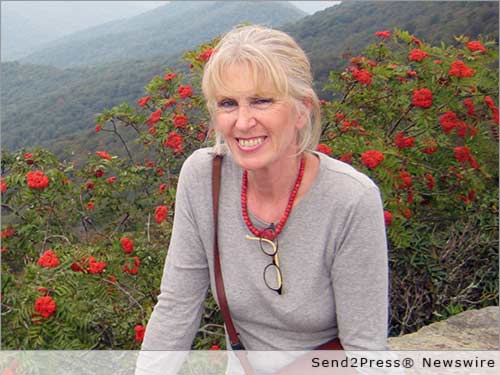 ASHEVILLE, N.C., Jan. 11, 2016 (SEND2PRESS NEWSWIRE) — Do you ever ask yourself, "Why does this always happen to me?" Or do you simply chalk it off to fate? Yvonne Haarsma, owner of the Asheville Astrolodge, explains why coincidences do not exist and ascertains that everything happens for a reason, including problems people encounter. A karmic astrologer, she can see the lessons which are often interpreted as problems, while studying someone's chart. As a result, she recently opened the Asheville Astrolodge to help people better understand their past, present and how it affects their future through holistic/karmic astrology.
The concept for the Asheville Astrolodge is simple. Guests stay for one or two-nights. During that time, they have their astrological chart read. This chart is also known as a birth blueprint. It is read to help them figure out why things happen and what they can do to take charge of their lives.
"I spend at least two hours with each person. We discuss certain laws of nature and usually review it over the course of two different sessions because there is a lot of information to absorb and process," Haarsma says.
Haarsma encourages guests to record the sessions and to take notes so that they can reference their reading for years to come. Through karmic astrology, she helps people to understand the reason for this life as well as lessons to be learned while here. This deeper understanding facilitates choices so people can strive for their desired destiny.
She has the ability to see a general tendency in past lives and reveals where people may have gotten stuck in certain patterns that are no longer useful. She helps them to break those patterns.
"Once we understand where the problems are coming from, we can start the process of change so people feel happier," she says.
Haarsma does not rely on computer programs for chart interpretations. All charts are personally analyzed and she writes about eight pages of details that are uniquely specific to each person.
"It's exciting to get in touch with your deeper self and to see how this process and understanding facilitates the choices we might make to become more true to that self," she says. "When people leave the Astrolodge, they often leave with a renewed sense of confidence."
About the Asheville Astrolodge:
The Asheville Astrolodge is within walking distance to downtown Asheville. It offers two guest rooms – each with its own entrance and private bathroom that can accommodate up to two people each. During their stay, guests are free to explore the many attractions that the region has to offer. From cultural activities and sustainable dining to outdoor adventures and spiritual experiences, there's something for everyone. The Asheville Astrolodge is the ideal retreat for couples, individuals or friends who are seeking something a little different – a getaway that incorporates a spiritual journey with a physical one.
For more information: http://ashevilleastrolodge.com/ or contact Yvonne Haarsma at 828-250-0013.
– Photo 300dpi: Send2Press.com/mediaboom/16-0111-Yvonne-Haarsma-300dpi.jpg
– Photo Caption: Yvonne Haarsma, owner, the Asheville Astrolodge.
Published on CaliforniaNewswire.com Mon, 11 Jan 2016
To view the original version on Send2Press Newswire, visit: https://www.send2press.com/newswire/the-asheville-astrolodge-a-place-where-people-will-learn-why-things-happen-to-them-2016-0111-06.shtml.
NEWS SOURCE Asheville Astrolodge :: This press release was issued on behalf of the news source (who is solely responsible for its accuracy) by and Copr. © 2016 Send2Press® Newswire, a service of Neotrope®.