EMERYVILLE, Calif. /California Newswire/ — Yuzu Ramen & Broffee, an authentic Japanese restaurant in the Bay area, announced they have added 5 new ramen dishes to their menu now offering 8 varieties in total. The new additions include a spicy tonkotsu, spicy gyukotsu, spicy veggie, cheesy tonkotsu, and a cheesy gyukotsu.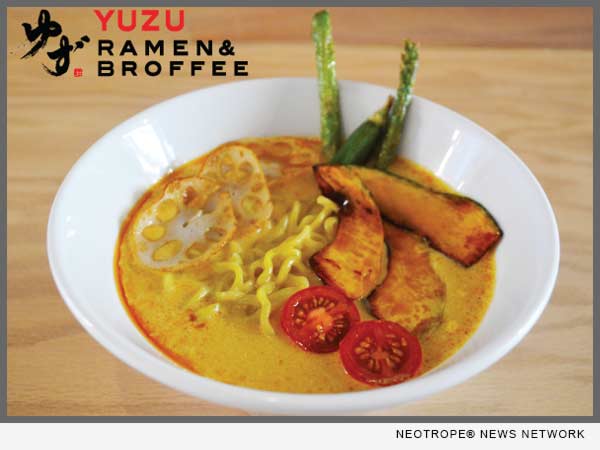 It's already unheard of to see a new ramen place offering three different broths, tonkotsu (pork), gyukotsu (beef) and veggie (vegetable), that are completely different & all made from scratch in house. But we're told that they are soon to introduce their 4th broth, which will be the basis for their "toripaitan (chicken)" series of ramen dishes. They are also developing a kids' menu and expect to receive their beer and wine license mid-November.
It's said that only a handful of people in the world know the recipe Yuzu uses to create their ramen dishes. Their recipe director, Scott Sada, went through culinary training under one of the iron chefs in the Kansai area and was awarded national level championship for his "healthy and tasteful" ramen recipes in Japan. The owners are all from Osaka and you can tell that they have put a lot of effort into bringing authentic Japanese cuisine to the East Bay Area.
We've learned it takes 3 whole days just to prepare this award winning ramen broth. No doubt a challenging task from an operational point of view. But when we see ramen served by just mixing premade broth paste/sauce into hot water elsewhere, it's clear they go the extra mile, making sure to serve the right ramen to their customers in the most authentic fashion.
Yuzu uses organic vegetables, 100 percent grass-fed / pasture-raised meat & bones for their ramen & their unique award winning broths (rich and creamy). There's no antibiotics used nor GMO fed, no artificial coloring or flavoring, and no MSG or preservatives. Sticking to unprocessed, non-artificial and as-naturally-raised-as-possible ingredients is a core part of their business values. Almost every ingredient is delivered fresh daily from entrusted local vendors that focus on natural and/or organic ingredients.
How many times have we been able to finish a ramen bowl down to the last sip of the broth without feeling woozy or fogged afterwards? We encourage everyone to stop in and experience the Yuzu difference. See how energized and alert you feel after eating their ramen. There is a significant increase in cost that goes into making almost everything in house using only the highest quality and healthiest ingredients. If you're someone that values good health, then you know that these ingredients can make all the difference in how you feel day to day.
Yuzu still has a few kinks to work out with some of their other menu items such as the appetizers and entrees. The owners have 40 years combined experience of running restaurants in Japan though, so we feel it's only a matter of time before they get things on track in terms of figuring out how to balance out their menu so that it works better for what Americans are accustomed to without sacrificing the Japanese authenticity they have worked so hard to create.
Their fast casual approach combined with their huge patio and welcoming environment makes for a very pleasant experience overall. The patio is fully loaded with heaters/blankets that you can use during winter days, and is also dog friendly. Since they're a fast casual establishment, they decided to incorporate a small gratuity into the pricing, so no extra gratuity is necessary, which is convenient.
Co-founders, Steven Yamaji and Nori Itasaka, had this to say about the environment and approach taken at Yuzu: "We always put the customers/guest first, no matter what. The Omotenashi spirit guides the customer service at YUZU blending a welcoming spirit with respect, warmth, and understanding. When you visit YUZU, you will not feel like just another customer. You will feel like a guest in our home. Attention to detail with a commitment to anticipating your needs will characterize the level of service. Then paired with sincere smiles and a happy, relaxed mood setting for the complete package. The Japanese Omotenashi spirit at YUZU Ramen & Broffee will aim to give you not only a world-class experience but also a once-in-a-lifetime experience."
Yuzu has also incorporated a fully loaded loyalty rewards program that you can sign up for in store, and a variety of daily specials which can be found on their website. We're also told that they do weekly gift certificate giveaways, you can earn entries to win by completing various social actions like following them on twitter. See the link above.
Also, if you are an employee at a business local to the Emeryville area, you can sign up for their "Local Business Partnership Program." This program is good to use anytime and doesn't expire. It will get you 10-15 percent off your entire order at lunch and 10 percent off dinner for you and your guests. Just have your manager send an email to contact@yuzurb.com for more information.
Yuzu Ramen & Broffee is located at 1298 65th Street in Emeryville, CA 94608. They are open Monday – Saturday. Their lunch hours are 11:30 a.m. – 2:45 p.m. and dinner is from 5:30 p.m. -8:45 p.m. They plan to extend dinner hours when they start serving beer, wine and sake. Visit this Japanese Restaurant online and be sure to sign up to their email newsletters.
More information: http://www.yuzurb.com/.