SAN FRANCISCO and SAN ANTONIO, Texas /California Newswire/ — The Worldwide Broker Network(TM) (WBN), the world's largest fully integrated international network of independent Property & Casualty and Employee Benefits brokers, has announced its 58th Global Conference on April 11-14, 2018 in San Antonio, Texas.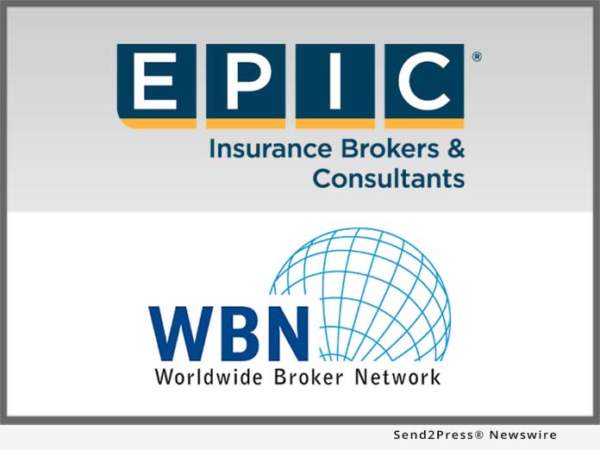 Partnering with Member Host EPIC Insurance Brokers and Consultants, the 2018 Global Conference will include more than 300 brokers, carrier sponsors, and speakers from more than 100 countries for discussions on compliance, client engagement, specialty industry coverage, and disruptive business.
This year's program will focus on key global trends and how WBN members can comply with the European Union's imminent GDPR rules on data privacy while understanding the effects of the continuing threat of cyber and related risks across economic sectors and innovative new programs in the employee benefits arena.
The Conference and hosting partnership coincide with the appointment of EPIC Southwest Region President Jim Watt as Chairman of the Board of WBN, effective April 12, 2018. Mr. Watt, who currently serves as WBN's Treasurer, will be the first board chair of WBN from an employee-benefits background.
"I'm happy to welcome colleagues from around the globe to my home state of Texas," said Watt. "WBN's 58th Annual Conference will be its best ever, with more attendees, workshops, and opportunities to collaborate on global business partnerships than ever before. I'm particularly pleased to see so much participation by WBN clients, companies whose experience working with us to solve their most challenging cross-border needs proves WBN's value proposition year in and year out."
The thriving independent global network generates more than $5.25 billion in annual revenue – making it the fourth-largest broker network in the world. Since its founding in 1989, WBN has empowered brokers across six continents, in more than 500 cities around the globe, to conduct business internationally with maximum flexibility, innovation and success. WBN Members, clients, prospects and insurer partners meet in Global Conferences twice a year to collaborate, learn and maintain professional relationships and personal friendships.
About The Worldwide Broker Network(TM):
Founded in 1989, WBN has grown from nine firms in Western Europe to more than 100 firms spanning the globe and serving clients through 500+ offices in six continents. Today, as an important part of the insurance industry's distribution network, WBN generates over $5.25 billion in P&C and employee benefits revenue annually. For more information please visit https://wbnglobal.com/.
About EPIC:
EPIC is a unique and innovative retail property and casualty and employee benefits insurance brokerage and consulting firm. EPIC now has more than 1,400 team members operating from 50 offices across the U.S., providing Property & Casualty, Employee Benefits, Specialty Programs and Private Client solutions to more than 20,000 clients.
With run rate revenues greater than $400 million, EPIC ranks among the top 20 retail insurance brokers in the U.S. Backed by Oak Hill Capital Partners, the company continues to expand organically and through strategic acquisitions across the country. For additional information, please visit https://www.epicbrokers.com/.
News Source: EPIC Insurance Brokers and Consultants