SANTA MONICA, Calif. — For the first-time ever, the folks who live in Santa Monica and surrounding areas, will get a taste of third-world culture at the International Handcrafted Gifts and Home Textile Expo to be held on January 20 and 21 at the Santa Monica Doubletree Hilton.
"This is the fourth year that we have sponsored the Expo," Margaret Galabe, Executive Director, World Women Trade Fair, said. "These events have been very successful in the past and this is the first year that we are hosting it in Santa Monica. In the past, we have hosted it in various cities in the U.S. and the U.K. and we expect at least 3,000-5,000 people to attend."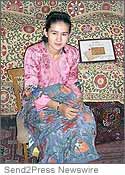 The mission of the World Women Trade Fair (www.worldwomentradefair.com) is to provide economic opportunities to women living in third-world countries and to assist them to gradually build a broad-based market. In addition, the World Women Trade Fair offers U.S. market-orientation training which is a component of their Global Market Access Initiative offering skills training and information to access global markets.
"Learning how to be successful in global markets is key," Galabe explained, "but, it is also important to the artisans to produce unique, quality, handcrafted products that reflect and retain their heritage. We are able to assist them in the production of these fine crafts."
At the Expo, World Women Trade Fair will have 50 vendors from over 20 countries represented. For example, a small country, Uzbekistan, a land-locked country in Central Asia that was formerly part of the Soviet Union, sits on the ancient Silk Road between China and the West. A vendor from Uzbekistan will present suzane silk decorative embroidery that dates back to the Temurid Empire period of the 14th and 15th centuries. After the collapse of the former Soviet Union, the women of Uzbekistan revived their lost traditional weaving and embroidery skills to create jobs and to re-build their communities.
Other countries include, but are not limited to: Afghanistan, Bolivia, Nepal, Kenya, Mexico, Vietnam and South Africa. Products for sale range from intricately-beaded jewelry and dolls to handcrafted wood models and elaborately-woven baskets.
Admission to the event is free. For more information, visit: http://www.worldwomentradefair.com or call: 661-456-2286.
[tags]World Women Trade Fair, International Handcrafted Gifts and Home Textile Expo, Santa Monica events, economic opportunities to women[/tags]