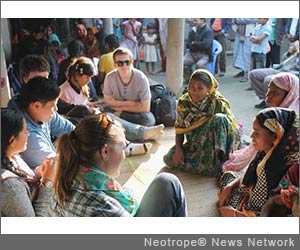 SAN FRANCISCO, Calif. /California Newswire/ — Thirty U.S. youth leaders and five U.S. educators are set to return next Saturday, January 12, 2013, from a month-long immersion study and cultural exchange program in Bangladesh from World Savvy. The group studied how global climate change has impacted local communities in Bangladesh, and upon return to the U.S., the students will apply their new knowledge by launching climate change projects to improve their U.S. communities and the world.
This month, students will translate their firsthand experience with climate change in Bangladesh into climate change solutions in their local sphere of influence: their schools and neighborhoods. Since students observed how regional actions in Bangladesh could directly impact global sustainability, their action projects will in turn empower their local communities to change in order to prevent further global destruction.
The group of thirty students and five educators participated in a competitive application process to earn the unique opportunity to experience how climate change is affecting the environment and people of Bangladesh. The international trip was part of the American Youth Leadership Program (AYLP), an initiative sponsored by the Bureau of Educational and Cultural Affairs of the U.S. Department of State. In partnership with the U.S. Department of State, the program is administered by World Savvy, a non-profit organization that educates and engages youth in community and global issues. Program goals include fostering mutual understanding and civic engagement among young Americans and their Bangladeshi peers, as well as empowering youth leaders to become change makers in their own communities.
While in Bangladesh, youth leaders and educators witnessed the devastation due to increased salinity from rising sea water in the Sundarbans, the world's largest mangrove forest. They visited communities that lost farmland as a result of climate change, and interviewed climate refugees in the slums of Dhaka. These experiences provided youth leaders and educators with a deeper understanding of how their actions in the United States can impact people on the other side of the world.
"Enabling students to meet individuals affected by climate change in Bangladesh helps illustrate the connections between issues, events and people, locally and globally, in a way that promotes informed, positive action," explained World Savvy's Executive Director and Co-Founder Dana Mortenson. "Since major issues such as the environment, economy, natural resource distribution, and immigration are truly global in scope, it is essential that we provide students with educational opportunities to view these issues from multiple perspectives."
Last year's action projects included: Natasha Wood petitioning San Francisco University High School to install solar panels to reduce excessive electricity consumption, Aury Hernandez lobbying for and raising funds to replace paper towels with hand dryers in Flushing International High School restrooms, and a graphic novel by participant Alisa Smith on the plight of endangered Bengal tigers living in the Sundarbans to raise awareness on the effects of rising sea water on coastal communities.
About World Savvy:
World Savvy, a 501(c)3 non-profit, educates and engages youth in community and world affairs, to learn, work and thrive as responsible global citizens in the 21st century. More info: http://worldsavvy.org/ .
Editorial Contact: Liz Pankey, World Savvy International Program Coordinator; Email: Liz@worldsavvy.org Phone: 415.813.1686.
Copyright © 2013 CaliforniaNewswire® and Neotrope®. California Newswire is a publication of the Neotrope News Network and a U.S. reg. TM of Neotrope.