SAN FRANCISCO, Calif. — On Saturday, March 14, 2009, over 500 middle and high school students from Northern California schools will convene at San Francisco State University to compete in the largest annual academic event for San Francisco area students. Over 1,000 middle and high school students, volunteer judges, educational leaders, and community guests are expected to take part in the seventh annual World Affairs Challenge(TM) hosted by San Francisco-based global education non-profit World Savvy.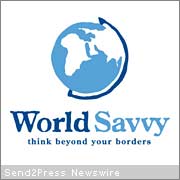 The central topic of this year's World Affairs Challenge is human migration. Students from 28 local schools have prepared comprehensive presentations (which include proposed solutions) on issues as diverse as immigration policies in various countries, the impact of different economies on migration, and possible effects of urbanization and overpopulation.
"To ensure the competitiveness of our workforce, improve our country's image on the world stage, and build a peaceful and sustainable world, we will need a new generation of leaders who fully understand and can articulate how interconnected – and interdependent – we are globally," explained Dana Curran, Executive Director of World Savvy. "The World Affairs Challenge presents a unique opportunity for students to study a global issue in depth from a variety of perspectives and work with a group of their peers to suggest creative solutions to a particular problem."
At the World Affairs Challenge, students will participate in four separate events. Students prepare a 15-minute presentation and present a descriptive poster in groups of 7 to 12. Students also study current affairs and world geography in preparation for a quiz, and practice their teamwork skills for a group problem-solving activity in which students are grouped with youth from other schools to solve a real-world scenario. These four activities – the presentation, the poster, the quiz, and the real-world problem-solving – give youth diverse opportunities to present their findings and opinions as well as to be listened to and respected by their peers and adults who serve as observers and judges.
"The World Affairs Challenge gives San Francisco students an excellent opportunity to develop the global awareness that more and more leading employers are citing as one of the most sought after traits," Mark Sanchez, former President of the San Francisco Unified School Board. "By teaching students how to think about global issues rather than what to think about global issues, the World Affairs Challenge gives students valuable critical thinking skills which will enable them to become engaged global citizens."
World Savvy is proud to welcome its 2,500th participating student to its seventh annual event in San Francisco and encourages interested community members and media representatives to attend the event.
For more information, visit http://www.worldsavvy.org.
About World Savvy
World Savvy is a global education nonprofit with the mission to educate and engage youth in community and world affairs, to prepare them to learn, work and live as responsible global citizens in the 21st century. Serving youth ages 10-18 and educators, World Savvy offers three core programs – Global Youth Media and Arts Program (MAP), World Affairs Challenge(TM) (WAC), and Global Educators Program (GEP). Additionally, the Global Affairs Monitor (GAM), an online, subscription-based current events service, provides an in-depth report on an issue or region of global importance. Since its inception in 2002, World Savvy has grown from serving 25 teachers and 100 youth to serving more than 750 teachers and 5,400 youth in 2008-09, with offices in San Francisco, Minneapolis-St. Paul, and New York.
[tags]World Affairs Challenge, global education nonprofit, San Francisco News[/tags]