PETALUMA, Calif. — Working Together (aboutworkingtogether.com) is offering a unique premier weekend retreat where guests will use a combination of guided meditation, group discussion, and visioning tools to build energy, shed past practices, old belief systems, distress and participate in an intimate journey of renewal. The retreat will be held Friday June 29, through Sunday July 1, 2007.
The Light Energy Shifting retreat has a spiritual theme that allows the participant to integrate whatever spiritual tradition they wish into the process of the retreat. The facilitator, Life Coach and Spiritual Counselor, Shirley Ryan will lead the group using many visioning, artistic, and guided meditation methods to create deeper connections to self.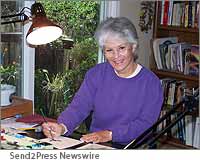 "I see the retreat as a chance for guests to connect with themselves in a new way," says Ryan, "to relax into energetic discussions with like minded people, and learn life changing tools for the future." *(Photo Caption: Life Coach Shirley Ryan of Working Together.)
"For anybody who wants to get out of the cities, recharge their spiritual batteries, or just enjoy the scenic pacific west coast, all of these things combine to offer a retreat like no other. Located above pristine Tomales Bay, there is ample space for visioning, imagining, meditation and just plain relaxing."
Concludes Ryan, "This electrifying and energizing retreat is sure to enhance creativity and get your spiritual batteries revved for action."
The Light & Energy Shifting Retreat will be held at the Marconi Conference Center on 62 pine covered acres located above Tomales Bay at the scenic coastal community of Marshall, CA near Point Reyes, CA. Although the retreat location is remote, the facilities are beautifully designed for comfort and pleasure. Take a 360 tour of the facilities; check out the menu, and the lodging at www.marconiconference.com.
Pricing for the retreat is $295 per person, and lodging begins at $105 per person, per night. All meals are provided and menus are created especially for the retreat. Room reservations and payment is re required at registration, which also holds the participants place at the retreat. The $295 retreat fee is due 30 days prior to the retreat event date. Space is limited to 35 participants.
Additional information can be found online at http://www.workingtogether1.com/Light-Shifting-Overview.html, or by phone at 707.775.4409.
[tags]Working Together seminars, Life Coach and Spiritual Counselor, lifecoach Shirley Ryan, Petaluma California news[/tags]