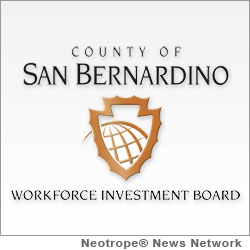 SAN BERNARDINO, Calif. /California Newswire/ — The San Bernardino County Workforce Investment Board announced on the heels of the Y4 event on Friday, April 27 that unemployed youth may apply for the Workforce Investment Act (WIA) youth program. The program gives eligible youth access to educational and career opportunities and job skills programs through adult and peer mentoring and counseling. The goal is for all participants to obtain valuable work experience, GEDs and certifications.
Applicants up to the age of 21 must be a resident of San Bernardino County and a senior in high school or out of school. The program is designed for at-risk, low-income youth. The youth programs may have additional qualifications and may be contacted for further details.
The WIA youth program is funded by the San Bernardino County Workforce Investment Board. The deadline to apply is September 30, 2012. More than 500 positions are currently open; applicants should visit www.SBCountyJobOps.com to find the local youth program in their community.
An annual tradition, Y4 provides WIA youth participants with high-energy presentations, career building workshops and opportunities to meet with local employers. More than 600 San Bernardino County youth gathered at Citizens Bank Arena to celebrate the completion of program year 2011-2012.
"A year ago, half of my students needed GEDs and only a few had jobs," said Kristi Evans, youth employment specialist with the Mental Health Systems Needles Center for Change. "Now 90% of them have earned their GEDs and have received certifications. They couldn't have done it without the support of the San Bernardino County Workforce Investment Board's youth job training program."
Evans left for Ontario at 5:00 a.m. to drive 22 youth to the celebration. She was determined that after all of their hard work and dedication to the WIA youth program, they take part in the celebration.
"This year's Y4 event was an awesome opportunity to celebrate the year-long commitment made by 665 courageous young men and women, who chose to take charge of their future," said Josie Gonzales, San Bernardino County Chair and Fifth District Supervisor. "I was honored to speak to them and share a little bit about my life and my challenges. I wanted them to know that if I can make it, they can too!"
"These young people should be proud of their accomplishments, but the journey has only begun," added Gonzales. "Hopefully, the resources and motivational speakers at Y4 will help them as they work towards their own personal and professional success."
The Roadtrip Nation Experience RV was also part of the Y4 celebration. This year, the San Bernardino County Workforce Investment Board partnered with the Roadtrip Nation Experience to provide an intensive curriculum. By giving students the tools to interview and film someone in their career of interest, the Roadtrip Nation Experience empowers students to define their own roads in life; to relate what they study to their real-world experiences; and open doors to different pathways and possibilities.
"Our success is due to the dedication of staff and the youth service providers who implement the Workforce Investment Act program across the county," said Sandy Harmsen, executive director of the San Bernardino County Workforce Investment Board. "They work with our youth participants daily and devote themselves to help each individual achieve his or her goals."
Y4 was hosted by County of San Bernardino Board of Supervisors, in partnership with the Workforce Investment Board of San Bernardino County.
About the Workforce Investment Board of San Bernardino County:
The Workforce Investment Board of San Bernardino County (WIB) is comprised of private business representatives and public partners appointed by the County of San Bernardino Board of Supervisors. The WIB strives to strengthen the skills of the County's workforce through partnerships with business, education and community-based organizations. The County of San Bernardino Board of Supervisors is committed to providing county resources, which generate jobs and investment.
The WIB, through the County of San Bernardino's Economic Development Agency and Workforce Development Department, operates the County of San Bernardino's Employment Resource Centers (ERCs) and Business Resource Centers (BRCs). The ERCs provide individuals with job training, placement and the tools to strengthen their skills to achieve a higher quality of life. The BRCs support and provide services to the County's businesses including employee recruitment.
Copyright © 2012 CaliforniaNewswire® and Neotrope®. California Newswire is a publication of the Neotrope News Network and a U.S. reg. TM of Neotrope.