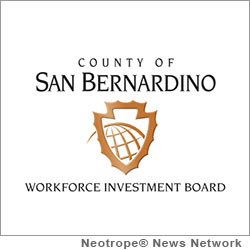 SAN BERNARDINO, Calif. /California Newswire/ — The San Bernardino County Board of Supervisors declared September 2012 to be Workforce Development Month. The San Bernardino County Workforce Investment Board will be recognized for its programs that assist job seekers and businesses when they have nowhere else to turn.
When Tyresha White's father passed away, she and her family were stunned. As one of seven children, White needed to help her mom with her younger siblings. But she didn't have a job and was turned down by potential employers due to her lack of work experience. Hope came from the Workforce Investment Act youth program funded by the San Bernardino County Workforce Investment Board.
"Our County's Workforce Investment Board has been a lifeline to thousands of residents whose lives were impacted by the economic downturn," said Josie Gonzales, San Bernardino County Chair and Fifth District Supervisor. "The Board makes resources and services available to our local businesses in need, and to young people like Tyresha who are seeking help to overcome their own personal hardships."
White enrolled in the PAL Center in 2011, where she not only received work and life skills training, but she also found her life goal to become a Physician's Assistant. She also received assistance with bus passes and gas money as well as food vouchers for her and her family.
"I completed the certified nursing assistant course and I'm now working at Country Villa Hacienda and I will begin my general education courses at San Bernardino Valley College," White said. "I no longer depend on anyone else and I hope that I'm making my Dad proud."
In the 2011 program year, the San Bernardino County Workforce Investment Board trained 3,370 customers using federal funds to enter careers in high-demand industry sectors. The board's Business Resource Team visited and established relationships with more than 2,800 local employers. They provided valuable services such as employee recruitment assistance, lay-off aversion programs, process improvement services that saved and created jobs, business workshops and On-the-Job Training funds that reimbursed wages to employers during a specified training period.
"We are still in a vulnerable period of economic recovery," said Sandy Harmsen, executive director of the board. "Unemployment crept up in July 2012 and there is still some hesitation to hire. We are mitigating that gap with our business-friendly programs and resources, while partnering with educational and community organizations to assist job seekers, youth and veterans to receive training and work experience."
Job seekers, youth, veterans and employers who are interested the Workforce Investment Board programs may call: (800) 451-JOBS or visit http://www.csb-win.org/.
About the Workforce Investment Board of San Bernardino County:
The Workforce Investment Board of San Bernardino County (WIB) is comprised of private business representatives and public partners appointed by the County of San Bernardino Board of Supervisors. The WIB strives to strengthen the skills of the County's workforce through partnerships with business, education and community-based organizations. The County of San Bernardino Board of Supervisors is committed to providing county resources, which generate jobs and investment.
The WIB, through the County of San Bernardino's Economic Development Agency and Workforce Development Department, operates the County of San Bernardino's Employment Resource Centers (ERCs) and Business Resource Centers (BRCs). The ERCs provide individuals with job training, placement and the tools to strengthen their skills to achieve a higher quality of life. The BRCs support and provide services to the County's businesses including employee recruitment.
Copyright © 2012 CaliforniaNewswire® and Neotrope®. California Newswire is a publication of the Neotrope News Network and a U.S. reg. TM of Neotrope.