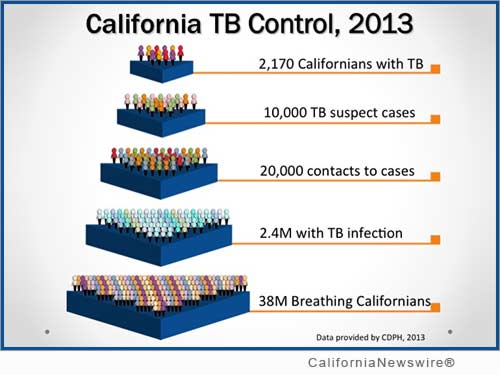 OAKLAND, Calif. /California Newswire/ — Ebola is dominating the news headlines, bringing public health into the spotlight. Tragically, thousands have died. In the U.S., public health departments everywhere are quickly learning about Ebola and taking measures to prevent an epidemic here; but they are not starting from scratch, says the California Tuberculosis Controllers Association (CTCA).
The essential skills required when responding to Ebola, such as contact tracing, isolation, quarantine and proper wearing and removal of personal protective equipment are all familiar. They do these things everyday to combat diseases such as tuberculosis.
One third of the world is infected with Tuberculosis, or TB. That's over 2 billion people. TB kills 1.3 million people each year worldwide. TB is a threat not just in other countries but also here in the United States.
Every 4 hours a Californian is diagnosed with TB, and while there are medications to treat most strains of TB, about 9 percent of all Californians diagnosed with TB will not recover.
"With 2,170 cases of TB reported last year in the state and a nearly 10 percent death rate, we must maintain robust TB control programs to control and prevent this airborne threat every day," said Michael Stacey, President of the California TB Controllers Association. "We need strong stable programs to work toward TB elimination and strong TB programs to provide the capacity to respond quickly to emerging health threats like Ebola."
"In Alameda County TB control, we work with private providers in the community to rapidly identify and isolate suspected TB cases, and we work to identify people who have been exposed and possibly infected across the county," said Dr. Erica Pan, Deputy Health Officer of Alameda County. "Our preparations for Ebola just build upon the existing infectious disease experience and expertise of our public health doctors and nurses in partnership with community providers and their routine work of controlling TB throughout Alameda County."
TB is spread from person to person through the air when a person with active TB coughs and those around them breathe in the bacteria. Some people will live with TB infection without ever developing active TB disease. Others will progress to active TB that can spread from one person to another through the air. Californians need to know their risks, talk with their health care provider about their risks and get tested and treated if recommended.
"Public health TB programs protect the health of the public every day by finding and treating active cases of TB in our communities. To protect us all, they make sure that TB is treated regardless of a patient's insurance status or ability to pay." said Margo Sidener, President and CEO, Breathe California. "To eliminate TB and to respond to new emerging threats, public health needs stable resources. The current Ebola situation is a stark reminder of the importance of these programs. Since the Great Recession, public health program funding has been cut nationwide, and NOW is the time to reinforce these programs."
For information about TB, visit the California Tuberculosis Controllers Association website, http://www.ctca.org/ .
For questions or comments regarding the above news announcement, contact the company/organization(s) mentioned in the text, and not this website.
Copyright © 2014 CaliforniaNewswire® and Neotrope®. California Newswire is a publication of the Neotrope News Network and a U.S. reg. TM of Neotrope.