ATLANTA, Ga., Jun 06, 2017 (SEND2PRESS NEWSWIRE) — M2SYS Technology, a global leader in biometric identification management solutions announced today a new partnership designed to help customers using SecuGen fingerprint readers to accelerate their projects with the adoption of CloudABIS – a suite of cloud-based biometric identification management software tools.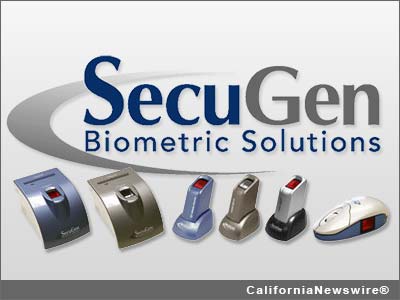 Longstanding pioneers of easing the burdens in the adoption of biometric technology, M2SYS created its next-generation CloudABIS suite to simplify the complexities and lower the costs of adoption for authentication projects around the globe. The partnership will help to speed deployment and facilitate the software development process for SecuGen's broad network of partners.
SecuGen is a world leading supplier of high quality yet affordably priced optical fingerprint readers, sensors, and related products. SecuGen's network of System Integrators, Original Equipment Manufacturers, and Independent Software Vendors, spans the globe.
With a proven history and strong track record of designing and developing innovative identity management solutions that change the landscape of the industry, CloudABIS allows anyone around the world embarking on a biometric identity project to rapidly bring to market a highly scalable solution, avoiding the cost and burden of significant development and maintenance. Components of the CloudABIS suite include:
• CloudApper(TM) immediately provides a cloud-based, configurable identity management software platform that can be used for anything from data management, to rapid prototyping, to a full-scale solution. This rapid cloud application framework can be used to build identity management systems for use cases such as national ID, border control/immigration, voter registration, membership management, time and attendance, and more.
• CloudABIS(TM) is a scalable, cloud-based biometric matching system for fingerprint, iris, finger vein, and facial recognition. Developers looking to add biometrics for identification can easily integrate into CloudABIS under a flexible and affordable SaaS model. Customers can use our public cloud or deploy CloudABIS in their own private cloud environment.
• CloudScnr(TM) is a biometric scanner integration service based on a service-oriented architecture. This product eliminates the headache associated with integrating biometric hardware into windows applications and various web browsers. With the advent of this product, developers do not have to worry about ActiveX, native code integration and browser plug-ins.
"As pioneers in developing technology for the rapid adoption of biometrics around the world, we are excited to continue that tradition with the release of CloudABIS," commented Mizan Rahman, Founder of M2SYS Technology. "Unfortunately, implementation of biometric identity management projects often poses a host of challenges such as integration, development obstacles, licensing issues, and on-going maintenance which cost precious time, resources, and money. CloudABIS removes the friction and risk from the process while lowering the total cost of ownership."
"We are optimistic that this partnership to empower our customers with CloudABIS will increase the adoption of our fingerprint hardware around the world," said Won Lee, CEO of SecuGen. "As the world's leading provider of fingerprint technology, we listen closely to our customers' needs, and we understand the desire to simplify the complexities and impediments to deploying a scalable biometric solution. CloudABIS is an innovative answer to help advance this powerful identification technology around the world."
About M2SYS Technology:
With over a decade of experience and millions of end users in more than 100 countries worldwide, M2SYS Technology delivers innovative, scalable, and practical identity management solutions that increase security and convenience while saving money, building accountability and establishing trust for governments and businesses around the world. The company continues to innovate, build, and deliver leading-edge enterprise biometric solutions that transform the industry and expand the applicability of biometric technology in the marketplace. M2SYS has been recognized for numerous industry accolades, including Frost & Sullivan's 2007 North American Biometrics Technology Innovation of the Year, the 2011 New Product Innovation Award, and the Atlanta Metro Chamber of Commerce 2014 Global Impact Award for Innovation. The M2SYS Corporate Blog can be found at blog.m2sys.com
CloudABIS is a global, award-winning cloud software company focused on removing the friction from developing and deploying a reliable, scalable biometric identity management solution through three core platform components: CloudApper(TM) cloud application framework, CloudABIS(TM) biometric-as-a-service (BaaS) matching system, and CloudScnr(TM), a universal plugin to support any browser or biometric device.
About SecuGen:
SecuGen Corporation (www.secugen.com) is the world's leading provider of advanced, optical fingerprint recognition technology, products, tools and platforms for physical and information security. SecuGen designs and develops FBI-certified fingerprint readers and OEM components, developer kits and software, including NIST/MINEX-compliant algorithms. Known for high quality, ruggedness, and price-performance, SecuGen's products are used across a wide range of industries, market segments and applications around the world including insurance and banking, medical and health care, point of sale, logical and physical access control, mobile devices, AFIS and law enforcement, and national ID and voter ID projects.
SecuGen is a registered trademark of SecuGen Corp. in the United States and other countries.
News Source: SecuGen Corporation
This press release was issued on behalf of the news source, who is solely responsible for its accuracy, by Send2Press Newswire. To view the original story, visit: https://www.send2press.com/wire/secugen-and-m2sys-technology-partner-to-advance-adoption-of-biometric-solutions-with-cloudabis-suite/