Nelson Opines Twin Towers Were Imploded on 9/11
AUSTIN, Texas — Willie Nelson appeared Monday, February 4, 2008, on the nationally-syndicated Alex Jones Show in a ground breaking interview where the country music legend said the twin towers were imploded on 9/11. "I saw those towers fall and I've seen an implosion in Las Vegas – there's too much similarities between the two, and I saw a building fall that didn't get hit by nothing," added Nelson, referring to WTC Building 7, which collapsed in the late afternoon of September 11.
Nelson said he was not surprised by the recent revelations concerning the impartiality of the 9/11 Commission – namely Phillip Zelikow, who has close ties to the Bush Administration.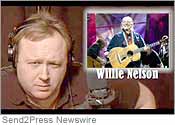 "How naive are we – what do they think we'll go for?" asked Nelson, pointing out that his doubts began on the very day of 9/11 during an appearance on the Alex Jones Show.
Willie joins the ranks of many celebrities who have spoken out to question the official 9/11 story on the Alex Jones Show, including such notables as: Charlie Sheen, Ed Asner, and rapper Paris.
Other celebrities who have questioned 9/11 include Ed Asner, Rosie O'Donnell, Martin Sheen, James Brolin, David Lynch former Dallas Cowboys lineman Mark Stepnoski, actor Mark Ruffalo and many others.
Alex Jones is syndicated over the GCN Radio Network and airs on over 80 AM and FM stations across the country. Jones has been called the father of the 9/11 Truth Movement and has produced several films on September 11th and orchestrated terrorism, including, TerrorStorm and End Game. Both of these films reached the top 10 on Amazon.com's best-selling list for documentary films.
The audio and full story can be found at: prisonplanet.com/articles/february2008/020408_towers_imploded.htm