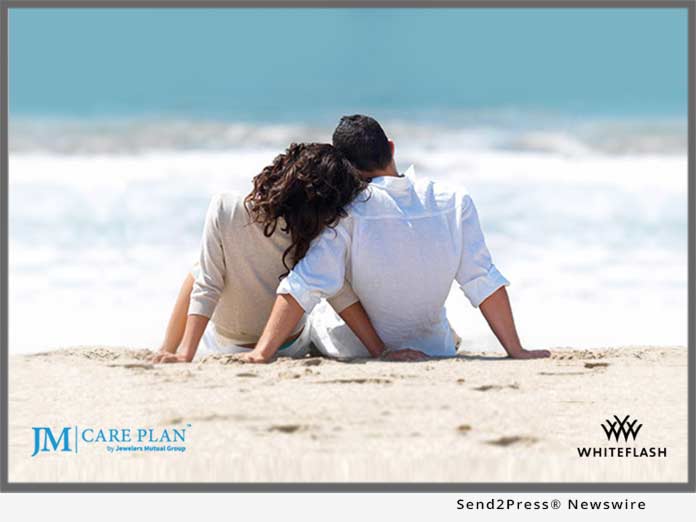 HOUSTON, Texas, Aug 29, 2018 (SEND2PRESS NEWSWIRE) — Whiteflash Inc., specialists in ideal diamonds and fine jewelry, announced today an innovation in jewelry protection having just completed implementation of a ground-breaking program provided by JM Care Plan, Inc., a member of the Jewelers Mutual Group. The plan is the first to be rolled out by an e-commerce company and provides comprehensive jewelry care for three years from the date of purchase.
Benefits of the Whiteflash 3-Year Ultimate Care Plan include repairs and maintenance, ring sizing and refinishing, replacement of lost gemstones, and even includes free roundtrip insured shipping.
The low cost comprehensive plan can be purchased conveniently at the time of purchase through an integrated web interface in the Whiteflash shopping cart, automatically recording details of the purchase. The one-time fee is determined by the purchase price with all benefits guaranteed for a full three years.
A dedicated Ultimate Care Plan page on the Whiteflash website explains the program including examples of the many services that are provided at no cost under the plan. Learn more: https://www.whiteflash.com/confidence/three-year-ultimate-care/.
While not a replacement for a personal jewelry insurance policy, the Ultimate Care Plan provides peace of mind to consumers in the knowledge that a full range of issues resulting from wear and tear will be attended to promptly and professionally at no additional cost. The plan is superior to typical warranties covering defects in materials and workmanship which can have onerous stipulations and caveats that often result in disappointment when consumers learn their repairs do not qualify.
"We're thrilled to be working with Whiteflash to bring this exciting opportunity to their customers. Peace of mind for jewelry purchases is priceless. When damage happens, the last thing customers should worry about is how to repair or replace an item. It pays to have a set plan that helps customers purchase and protect their jewelry with confidence. The Ultimate Care Plan delivers," said Mark Devereaux, vice president of sales for Jewelers Mutual Group.
Whiteflash COO Eliezer Eber, who worked closely with JM Care Plan to develop and implement the program, had this to say, "As the first jewelry retailer certified for ISO 9000 we are dedicated to leading the jewelry industry through constant improvement and innovation. Being the first e-commerce retailer to offer this great program is another win for web savvy Whiteflash customers who understand and appreciate added value."
In the words of Whiteflash CEO Debi Wexler, "Providing maximum peace of mind and confidence in the purchase has always been our top priority. We do that by providing quality products, extensive information, and expert consultation. Being able to offer the Ultimate Care Plan is a wonderful extension of that philosophy."
The Ultimate Care Plan is the first such comprehensive care plan provided by a trusted industry name, to be made available for internet purchases of fine jewelry by an e-commerce focused retailer.
About Whiteflash:
Whiteflash is a top tier retail jeweler specializing in Ideal Diamonds, Designer Engagement Rings and Fine Bridal Jewelry. Their A CUT ABOVE(R) Super Ideal Diamonds are considered by trade experts and diamond connoisseurs to be among the finest in the world.
The award winning Whiteflash.com website, described by Kiplinger's Magazine as the "Lord of the Online Rings" enables shoppers the world over to view, compare and purchase top quality diamonds, engagement rings and fine jewelry in a convenient, secure and information rich environment.
Whiteflash is the first jewelry retailer in the world to attain ISO 9001 certification for total quality management and welcomes visitors to their Houston jewelry store located in Sugar Land Town Square.
Whiteflash is a member of the American Gem Society and recipient of an unbroken string of Better Business Bureau Awards of Distinction including the BBB 2018 Pinnacle Award.
For more information, log onto https://www.whiteflash.com/ or call toll free 877-612-6770
About Jewelers Mutual Group:
The Jewelers Mutual Group companies, which are dedicated solely to serving the jewelry industry in the United States and Canada, began in 1913 when a group of Wisconsin jewelers came together to meet their unique insurance needs. Today, the Group's companies remain the trusted insurance advisor and loss-prevention expert for jewelry retailers large and small, wholesalers, manufacturers, custom designers, and appraisers-and for consumers who protect their personal jewelry and the special moments it represents. To learn more, visit http://jmcareplan.com/.
News Source: Whiteflash Inc
Related link: https://www.whiteflash.com/
This press release was issued on behalf of the news source, who is solely responsible for its accuracy, by Send2Press Newswire. To view the original story, visit: https://www.send2press.com/wire/whiteflash-launches-next-generation-jewelry-care-plan/