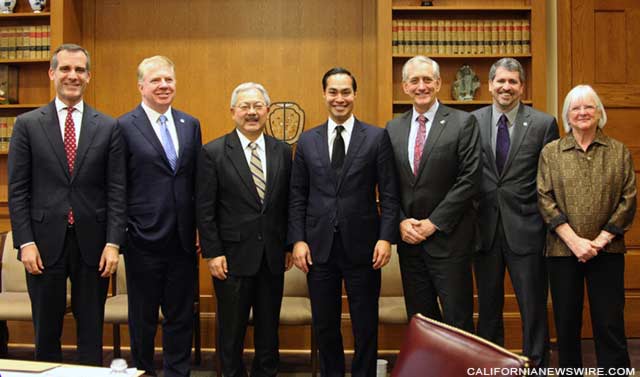 LOS ANGELES, Calif. /California Newswire/ — Mayors from five West Coast cities on Thursday signed a joint statement to the federal government seeking full federal partnership in their efforts to respond to the crisis of homelessness and housing affordability.
The statement asks for federal support to increase funding for affordable housing development; increase federal rental assistance for homeless households; increase access to critical support services; and to increase regulatory flexibility and alignment. Read the full statement.
Mayors signed the statement following discussions with U.S. Secretary of Housing and Urban Development Julián Castro and Matthew Doherty, Executive Director of the U.S. Interagency Council on Homelessness, during the first West Coast Mayors Summit, a two-day convening of mayors from Portland, Seattle, Eugene, San Francisco and Los Angeles to discuss pressing issues affecting each of their cities: homelessness, housing, and climate action.
"As mayors of West Coast cities, we share a commitment to do everything within our power to address the growing crisis of homelessness and housing affordability in our communities," the statement reads. "We recognize and appreciate the level of support we have received from our federal partners, including HUD and the United States Interagency Council on Homelessness. It is in the nature of a crisis that all of us are called upon to do more, and we look forward to meeting the growing challenge of homelessness together."
The group included: Portland, Ore. Mayor Charlie Hales; Eugene, Ore. Mayor Kitty Piercy; Los Angeles Mayor Eric Garcetti; Seattle, Wash. Mayor Ed Murray; San Francisco Mayor Ed Lee.