SYDNEY, Australia, and LOS ANGELES, Calif. /California Newswire/ — The company Greedystockbroker.com has launched its new pet chew toy "The Greedy Stockbroker" which has a very similar look to Gordon Gekko and Bernie Madoff. The Greedy Stock Broker, which sells for $17.95, is the latest pet product introduced by Anthony Russell, who is a self-described junkie of news about politics and current events. The 35-year-old former advertising agency account executive first founded Political Pet Toys (politicalpettoys.com) in 2001. That company markets chew toys based on global political leaders. Though their toys are based on figures around the world, the George W. Bush model is their top seller.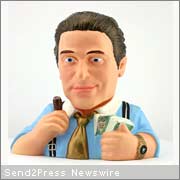 "Our best seller for 8 straight years was the Bush pet chew toy, it was amazing the sales we received, it even out sold our Bin Laden toy," Russell said. "But sadly, you only get one Bush in your life time. The Global financial crisis was a 'no brainer' for our next toy; I mean if you committed a hold-up and stole five grand from a bank you would be in jail an hour later, but if you steal $50 billion dollars you get bail and keep staying in your Park Avenue apartment."
He adds, "I knew after watching the Madoff court appearances what toy we would make next, I understood how people felt I personally lost a lot of money on the stock market like everyone else."
The pet ownership figures in the U.S. are huge with 63 percent of all U.S. households owning at least one pet, which equates to a staggering 71.1 million homes and even more staggering U.S. households own 88.3 million dogs.
Although investors who buy the pet chew toy will want their dogs to rip these toys to shreds, it is not possible in the literal sense, as each chew toy is made from a PVC-rubber compound so as to be soft on the animals' gums and will last for years.
The Greedy Stockbroker can be purchased only online at www.greedystockbroker.com for $17.95.
[tags]Greedy Stockbroker chew toy[/tags]